Redskins.com's Stephen Czarda breaks down the key players and matchups to keep an eye on during Thursday's Redskins-Falcons Preseason Week 1 showdown in Atlanta.
"Redskins-Falcons: Ingredients For Victory" is presented by Papa John's.
Every Monday after a Redskins game, get a Large Cheese Pizza for just $9.99. Receive a FREE TOPPING for every Redskins touchdown. DOUBLE THE FREE TOPPINGS when the Redskins win!
---
KNOCK OFF THE RUST EARLYThe Redskins have pushed through nearly two weeks of training camp practices now. While Redskins head coach Jay Gruden has liked what he's seen out of the 90-man roster, one that he believes is stronger than it was a year ago, during that time, nothing can match the live speed of a football game.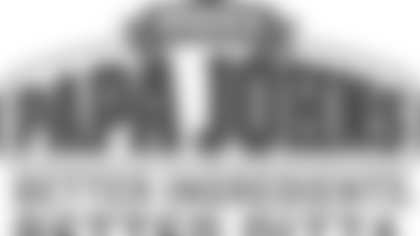 Nearly seven months after the last time Washington took the field against an opponent, they'll get that chance once again Thursday evening against the Falcons.
"We're going to get plenty of looks," Gruden said of evaluating the roster during the preseason slate. "Four good preseason games, the first two are what they are – a chance to get our veteran guys and our starters a couple of reps, work up a sweat. It's a chance for some of our young guys to push into the starting role or the backup role."
After the third preseason game – which this season is against the Buffalo Bills at FedExField later this month – in which the starters see significant action, the finale will go almost exclusively to bubble players.
"These games, although they don't count in the win-loss record, they count big-time as far as who your 53 players are," Gruden said. "Scoreboard aside, it's a very important time for us."
---
FIND THE RIGHT RUNNING BACK ROTATIONWithout any live tackling, the Redskins running backs have yet to take any real hits or prove they can even shed them. As soon as they're gobbled up during training camp practices, either the whistle blows or the play ends.
That won't be the case Thursday.
For what the Redskins running backs lack in experience, they make up for it in untapped talent.
There's also quite a bit of fluidity in the backfield, too, as the No. 3 running back spot behind Rob Kelley and Chris Thompson isn't set yet.
"Running backs, all you're looking for – well, number one – you're looking for how they pick it up mentally, their footwork and obviously the pass protection," Gruden said. "We take very seriously our pass protection around here. But as far as running the football, we're going to see that on game day. You know, some guys I've seen in shorts, running backs like, 'Holy cow, this guy can't be tackled,' and then he gets into a game and then he gets into a game and he gets tackled and runs backwards the wrong way. So we'll see how it works out. But I really am excited to watch these guys run."
Of the group trying to seize that roster spot, only Mack Brown has ever appeared in a preseason game.
After two stints on the practice squad last season, he understands that a strong preseason performance could bump him up into active duty.
"(The) main thing is just have a job when camp is over, because getting released last year, that was a hard feeling," Brown said. "So I'm not going home this year."
---
PLAY FAST AND PROVE YOU CAN HOLD UPBetween oppressive heat and steady, cool rain showers, the Redskins have already played through the elements at practice.
But Thursday will be a change of pace, as the Redskins will play in the Georgia Dome in the stadium's final year of existence.
Without any sort of weather implications and the artificial turf, the offense could look faster than it has at any point while in Richmond.
"It's a fast track, our receivers will love that," Gruden said this week. "And the air-conditioner… the environment there will be premier for football and for these guys."
Gruden does believe, however, that the game will test the Redskins in at least one are.
"I think the biggest thing to keep an eye on is how they handle their stamina, you know what I mean?" Gruden said. "When you get out in a game, guys will be playing more than three, four, five, six plays in a row and we'll see how they handle it, the receivers, defensive backs, pass rushers. It will be good to see. It will be good work for us and we'll see where we are exactly from a conditioning standpoint and from a skillset."
---
SHOW THAT YOU STILL HAVE ITMartrell Spaight has been waiting for this moment for 11 months. After suffering a season-ending concussion last September in the regular season opener, Spaight can't wait to take someone other than a teammate down.
"I'm very excited," Spaight said. "I am getting anxious every moment I think about it. My main thing is to keep getting better every day so once the game come around I have no doubt in my mind that I know what I'm doing, and I can go out there and maybe 'Spaight' a few people."
Spaight isn't alone on the comeback trail, though.
Safety Duke Ihenacho also went down on Opening Day last year, breaking his wrist. Fully healthy and eager to show the coaching staff he has what it takes to play an entire season, Ihenacho is ready to take on whoever the Falcons put on the field.
"It's been a long time, so I'm going to go out there and appreciate every moment, and go all out, just like I would," Ihenacho said. "I'm excited though."
It will take tight end Logan Paulsen – who missed the entire 2015 season with a toe injury – a little bit of time to get back into a groove.
Once the jitters are out of his system, however, expect Paulsen to play like he never missed any time.
"Try to play physical, try to play hard, try to play to the whistle," Paulsen said. "Those are all things I try to do in every game, but especially in this one, trying to show the coaches I still have that ability and I'm still that guy."