Although injuries to key players ended up being a key factor to a 5-11 season for the Redskins in 2006, one Sunday early that season injected Redskins Nation with optimism that a second straight playoff year may be in the offing in what was Hall of Fame head coach Joe Gibbs' second-to-last season.
On Oct. 1, 2006, the Redskins beat the Jacksonville Jaguars, 36-30, in an overtime thriller at FedExField. Santana Moss – still a member of the Redskins' roster today – caught a 68-yard touchdown pass from quarterback Mark Brunell early in overtime to account for the win.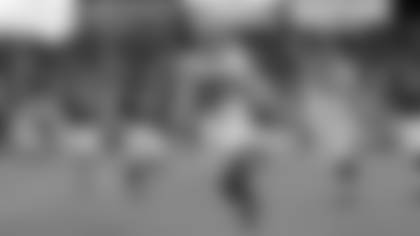 It was Washington's second-straight victory after an 0-2 start, and the second week in a row the offense operated in machinelike fashion. The Redskins gained 481 yards against a stout Jaguars defense, after amassing 495 in a 31-15 win over the Texans. The same offense looked sluggish in the first two games, losses to the Vikings and Cowboys.
Before a crowd of almost 90,000 at FedExField, the 2-2 Redskins, dressed in all white, and the teal-colored 2-1 Jaguars engaged in one of the league's most entertaining games of the season, with four lead changes and three ties.
Moss, who the year before had set a Redskins record with 1,483 receiving yards, made three dazzling touchdown catches, while Brunell found success against the team that he once starred for. The lefty completed 18-of-30 passes for 329 yards with three touchdowns.
His performance came a week after he completed 22 straight passes, an NFL record, in a 31-15 Redskins win over the Texans. His 89 completion percentage (24 of 27) that day broke Sammy Baugh's team record set in 1940.
Against the Jaguars, the Brunell-Moss tandem struck in the first quarter. Moss caught a short pass around midfield, evaded a tackle and sped into the open field. He raced toward the end zone with the aid of a nice block by running back Clinton Portis and juked a defender to complete a 55-yard touchdown that gave the Redskins a 7-3 lead.
Jacksonville rebounded to go up, 17-10, in the second quarter. But the Redskins responded with 17 straight points. Portis, who ran for 112 yards that day and is now the franchise's second all-time leading rusher with 6,824, dove in for a touchdown on a 3rd and goal at the 1, capping a five-play, 86-yard drive that appeared to wear down Jacksonville's defense.
On the next drive, an interception by Redskins defensive end Phillip Daniels gave the Redskins possession on the Jaguars' 29. After four runs by Portis moved the ball to the 8, Moss caught a pass and split a trio of defenders as he crossed the goal line, putting Washington up, 27-17.
The Jaguars answered with 10 straight points, including a 21- yard scoring pass by Byron Leftwich, a D.C. native who had an impressive game of his own (21 of 35, 289 yards, three touchdowns). With the score tied at 27, the Redskins' John Hall kicked a 37- yard field goal with 4:45 left. But a 41-yarder by Jacksonville's Josh Scobee with seconds remaining sent the 30-30 game into overtime.
The Redskins won the coin toss and needed only three plays to decide the outcome.
With the ball on the Redskins' 32, Brunell targeted Moss with a pass around midfield near Jacksonville's sideline. The throw was a hair from being intercepted by two different defenders, but Moss snared it, and with tight end Chris Cooley following him like a bodyguard, he raced untouched to complete a 68-yard catch and run that sent the crowd into delirium. Moss was later named NFC Offensive Player of the Week.
Redskins offensive tackle Chris Samuels described the game as a "statement" win.
"It is a statement around the league," he said. "Jacksonville's one of the top defenses. They've been shutting people down. Nobody thought we could run on those guys, and for us to go out there and put up what we put up, made plays all day throwing the ball. It says a lot that we're coming, and we're a good group of guys."
Redskins receiver Brandon Lloyd, who caught three passes for 49 yards, praised his team's potent offense.
"We're going for the win, we're going for the jugular on every play," he said. "There isn't a guy in the locker room who questioned anything we could do out on that field tonight. Four-hundred yards of offense two weeks in a row; this is what people were talking about would happen."
It was now a 12-game season for the rejuvenated Redskins, but things disintegrated fast. Devastated by injuries to key players, they lost three straight games and five of their next six to fall out of playoff contention.
But at least one Sunday that year opened a window of possibilities.
Mike Richman is the author of "The Redskins Encyclopedia" and the "Washington Redskins Football Vault." He hosts a podcast called "Burgundy & Gold Flashback." His web site is redskinshistorian.com.  Check out his Facebook Friend and Fan pages and follow him on Twitter.