It's called the "seat cushion game."
With the Redskins holding a 24-7 fourth-quarter lead over the Falcons in a divisional playoff game on Jan. 4, 1992, a seat cushion flew out of the upper deck of RFK Stadium.
Suddenly, cushions came raining down on the field in what looked like "huge confetti," said Jim Lachey, a Redskins offensive tackle at the time.  The Redskins gave away the seat cushions as part of a pre-game promotion for the sellout crowd of 55,181.
"The crowd was in a very festive mood, and all it took was one seat cushion coming from the upper deck," said then-Redskins public address announcer Phil Hochberg.  "The whole field was littered with them."
As Lachey put it, "It was just one of those scenes in your athletic career that you'll never forget."
The scenario was one of a number of storylines from that game.  The Falcons worked overtime to produce the others.
Atlanta's players did a lot of pre-game trash talking.  Cocky and boisterous, they made it clear they were out to avenge a 39-point loss to the Redskins in the regular season.
They sang "To Hell With the Redskins," a twisted version of "Hail to the Redskins," and sent 47 players out to midfield for the opening coin toss in hopes of rattling the burgundy and gold.
The Redskins spoke when it counted.  Their 24-7 win sent them to the NFC Championship game, where they crushed the Lions, 41-10, before routing Buffalo, 37-24, in Super Bowl XXVI.
"I never heard anybody say they were bothered or that we had to pay them back for that," former Redskins linebacker Andre Collins said of the Falcons' intimidation tactics.  "We were a great team.  We had won 14 regular-season ball games, and the two we lost were by a total of five points.  We just wanted to take care of business and finish out the season the right way."
In cold, wet and brutally windy conditions that favored Washington and its versatile running game, the Redskins slashed and slopped through the mud at RFK Stadium for 162 yards.
All-Rookie selection Ricky Ervins maneuvered for 104 alone and a scoring run.  Beefy running back Gerald Riggs plowed through for two touchdowns.
And as Washington's famed O-line, the Hogs, flattened Atlanta's much smaller defensive front, the Redskins methodically controlled the clock for more than 36 minutes and didn't turn it over.
"For an offensive lineman and a Hog, it was perfect weather," said Lachey, a consensus first-team All-Pro that year.
Atlanta, on the other hand, was handicapped by its run-and-shoot offense, a pass-oriented system difficult to execute in treacherous field conditions.
Quarterback Chris Miller threw four interceptions, while the Redskins shut down star receivers Andre Rison and Michael Haynes.  The Falcons fumbled twice, rushed 14 times for 43 yards and produced only 193 yards of offense.
Their loquacious cornerback, Deion Sanders, compared his squad's struggles with the run-and-shoot to having a "gun with one bullet."
The Falcons had promised this game would be much different from their 56-17 loss to Washington two months prior, when Redskins quarterback Mark Rypien shredded Atlanta's secondary with six touchdown passes and 446 yards.
Miller missed that game, as did two consensus All-Pros on the Falcons, Sanders and offensive tackle Mike Kenn.  Atlanta proceeded to win five of its next six games, including a 27-20 upset of the Saints in the NFC wild card game.
The 12-5 Falcons marched into RFK to the tune of their new theme song, "2 Legit 2 Quit," sung by their No. 1 cheerleader, rapper M.C. Hammer.  As he looked on with his buddy, heavyweight boxing champ Evander Holyfield, the first quarter went scoreless.
But early in the second period, Ervins ran 17 yards for a touchdown to end an 11-play, 81-yard drive.  Redskins defensive tackle James "Jumpy" Geathers later recovered a fumble on the Falcons' 39, and Riggs rammed into the end zone from 2 yards out for a 14-0 edge.
Atlanta cut the lead to seven before halftime.  The margin could have been wider, but Redskins kicker Chip Lohmiller missed three field goals largely because he couldn't get his footing in the mud.
He was true, however, from 24 yards out in the third period, and Riggs' 1-yard run in the fourth behind a convoy of Hogs secured the win.
What followed – a barrage of yellow seat cushions flying through the air and landing on the turf – gave the game a unique spot in Redskin annals.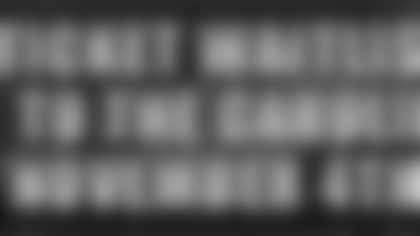 ](http://www.redskins.com/tickets/season-ticket-waitlist.html)

---
Mike Richman is the author of The Redskins Encyclopedia and the Washington Redskins Football Vault.  He was on the blue-ribbon panel that played a key role in selecting the 10 new names who are part of the Redskins' 80 Greatest team unveiled this season, also known as the "10 for 80."  His web site is www.redskinshistorian.com and his email is mikerichman@redskinshistorian.com.