This year, we selected two Rookies, Joanne and Ashley M, to receive a special makeover at the VIBE Salon at Robert Andrew Salons & Spas. These makeovers are designed to enhance their look and get them Game Day ready for this season. Read below to find out more about their fun experience. What do you think? How did you feel when you found out you were selected to receive a Rookie makeover at the VIBE Salon at Robert Andrew?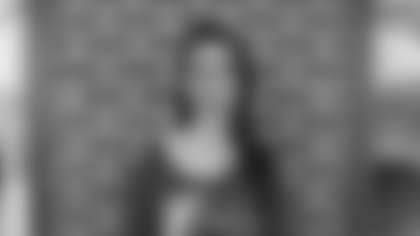 Joanne: When I found out that I would be receiving a Rookie Makeover, I was so thrilled! I have already had such wonderful experiences at the VIBE Salon so I was excited to hear what our Directors Stephanie and Jamilla had in mind for my look this season!
Ashley M: I could not have been more excited to be selected for a Rookie makeover! One of my previous teammates at Virginia Tech, Chelsea Rae, had gotten a rookie makeover a few seasons ago, so when I was selected I knew it would be a blast. I was ready for a fun change and could not wait to hear what Stephanie and Jamilla had planned for my makeover! I'm always up for a new hairstyle and color! Have you ever been to the VIBE Salon before? If so, what type of services do they offer?
Ashley M: I had not since I am new to the area! Robert Andrew Salons & Spas are a full service salon and spa. The atmosphere is unlike anywhere I had been before! Everyone was so friendly from the moment we stepped through the doors. You walk into Robert Andrew Salons & Spas and there is a beautiful lobby with a water fountain, which is so warm and inviting! I also love the atmosphere in each of their individual areas from the main salon, VIBE salon, Men's Zone, and their spa. There is something for everyone!
Joanne: As a Redskins Cheerleader Ambassador last season, I was able to get my hair cut and styled by the wonderful stylists at VIBE Salon. I love walking into VIBE, you are immediately met with smiles and the all-white decor is gorgeous! They are a full service salon under Robert Andrew Salons & Spas, so you can get a number of services to meet any of your hair needs!
What was your experience like at the VIBE Salon?
Ashley M: We both felt like royalty during rookie makeovers! The staff in VIBE Salon is always so fun and charismatic. They are an awesome group of stylists who enjoy each other's company as well as each of their clients!
Joanne: I agree with Ashley M, we did feel like royalty during our rookie makeovers! From the minute we walked in to the minute we left, we were treated like valued customers who had been going there for years. I love the stylists at VIBE because they are super friendly and we really did have a blast during our time there.
Joanne: I was with Meredith who is VIBE's in-house teasing queen! I was super pumped when I found out I would have Meredith because she is the stylist I always go to when I schedule my haircuts at VIBE!
Ashley M: I was with Sonya who is the manager and a stylist at VIBE. She also came with us to Jamaica to style us during our calendar photo shoots! She made me feel so pampered and excited about the changes!
What changes did your stylist make to your overall look?
Joanne: We wanted to create volume and length with my hair by adding clip-in extensions. Meredith took the time to teach me how to curl and tease my hair with the extensions in to create a fuller look that will stand out on game days. With the extensions, we added about 5 additional inches of hair!
Ashley M: We added dimension to my color by adding lowlights and warmth to my blonde highlights. I also got about 4 inches cut off of my length, creating a cute lob (long bob)!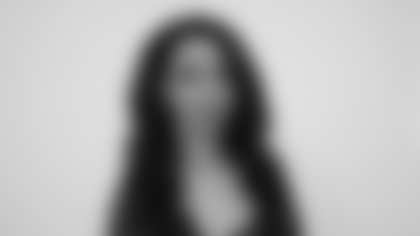 List three words to describe how you feel about you NEW look.
Ashley M: Fun, Flirty, and Sophisticated.
Joanne: Luxurious, Bold, and Sassy. 
What was your favorite part of your makeovers?
Ashley M: The final reveal! It was fun seeing the vision come to life! Everyone was so surprised to see me with short hair when I showed up to practice the following day!
Joanne: The sense of camaraderie during the entire experience. As soon as I sat down in Meredith's chair, I felt relaxed and knew I was in good hands. She made me feel comfortable and we had so much fun talking and getting excited about my makeover! 
If you could say anything to the VIBE Salon staff, what would it be?
Joanne: Thank you for giving us the best rookie makeovers we could have asked for! We had so much fun while we are at VIBE and it wouldn't have been possible without you! I can't wait for my next visit!
Ashley M: Thank you for always making us feel so welcomed and taking such great care of us! I always look forward to my time in the chair at VIBE! I had the best experience getting my Rookie Makeover!