The First Ladies of Football returned home this week from an amazing trip to Hong Kong. Taylor and Tecoya fill us in on their experiences.
Taylor: Hail Redskins Fans! Traveling to Hong Kong was an experience I never fathomed would have come true. Uttering the words "I am going to China" never quite seemed real. It wasn't until I woke up the morning after I landed, that we headed to the Cultural Center for practice, that it hit me just how blessed I was. Our itinerary was jam packed every day, to ensure we were able to experience the culture and all that the beautiful country had to offer. Our tour guides George and Irene made this trip extremely educational, as well as stress free as all the cheerleaders had to do was work hard during practices and performances, and take in as much as we could in the short time we were there. As a rookie, I felt extremely grateful to travel across the world and be engulfed in a culture outside of my comfort zone.
One of the highlights of the trip was being able to dance and get to know alumni that I had never met or come into contact with. I loved that regardless if we had danced together before; we came together and were able to have a great performance. It says a lot about this program, that women, who have retired years before, still love this organization and would take any opportunity to be able to perform again.
There aren't enough pictures or words that can describe how positive and exciting our trip was, and I only hope that the people of Hong Kong enjoyed our presence as much as we enjoyed them. I will be forever humbled that we were chosen to represent the USA! Kung Hei Fat Choi Hong Kong!
Tecoya: Hey Redskins Fans, guess who? It's Tecoya, your 2013 Pro Bowl Cheerleader, and I'm here to share with you my amazing experience in Hong Kong.  First of all, I was beyond excited and humbled to be able to put on those lovely colors of burgundy and gold.  There is a great sense of honor given when one is able to represent the Redskins and able to do so in the Chinese New Year Parade.  The parade hosted performers from various different countries, age groups, and cultural backgrounds.  With the opportunity of performing at two up close and personal performances, we had the chance to meet a lot of the performers and realize our similarities and differences.  Some of the performers were the carnival dancers from Barbados, the drummers from Spain, and the co-ed cheerleaders from Australia.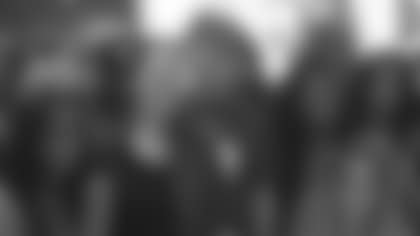 As a recent Alumni, having the opportunity of performing as a Washington Redskins Cheerleader was the absolute best part of the trip. I was able to catch up with old teammates and get to know the current squad.  We shared several bonding experiences on different tours, amazing Dim Sum lunches, and our final night's dinner at Mooloowooloo Steakhouse.  We even walked up over 250 stairs to take pictures with the historical Buddha Temple. This was truly a once in a lifetime experience and I'm beyond grateful for the laughs, memories, and friendships I gained. Until next time, Skins Fans! Hail!