Adrian Peterson stood in front of his locker at FedExField on Sunday, providing the media with his thoughts on a variety of topics. They wanted to know about the milestone he accomplished hours earlier, when he passed Jim Brown for fifth all-time on the NFL's rushing touchdown list. "It just continues to show me how blessed I am," Peterson responded.
Other inquiries were not as positive. They wondered about the Redskins' offensive roadblocks, their rushing struggles and their slow start to the 2019 campaign. One reporter asked about the team's standing within its division, the NFC East.
"Not at the top," Peterson declaratively answered. "That's not good. We lost two divisional games, so we're definitely not at the top."
With back-to-back losses to Philadelphia and Dallas, the Redskins are 0-2 for the first time since 2016. They're currently last in the division, two games back of the undefeated Cowboys. And the road ahead does not ease up. Next up is a Monday Night Football showdown with the Chicago Bears, and two weeks after that, the reigning Super Bowl champion New England Patriots come to town.
But in hearing from head coach Jay Gruden and several players, including Peterson, the team's current record and difficult early-season schedule has not hindered its confidence about what it can accomplish this season. While winless in two games, there's 14 more left to play, providing ample opportunities for this group to find its footing.
"Every game the stakes are raised," Gruden told Voice of the Redskins Larry Michael after the Week 2 defeat Sunday. "We played two very good football teams. The Eagles [were] Super Bowl champs a couple of years ago and went to the playoffs. The Cowboys were a game away from the NFC Championship. We know where we are; we're very close. We just got to get our young guys playing a little bit better, our veterans to play a little better, and we gotta coach a little bit better. And I think we'll be right there with them at the end."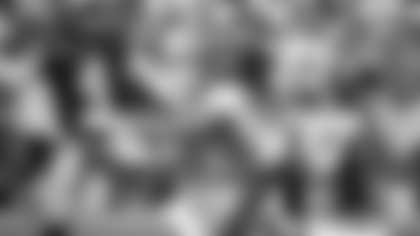 Gruden explained his reasons for optimism during his press conference Monday at Redskins Park. The Redskins have the talent, the toughness and the mindset to compete in this league on a weekly basis, Gruden said. They just haven't shown it yet.
Offensively, the Redskins have been without perhaps their best playmaker: tight end Jordan Reed, who remains sidelined with a concussion. His absence has allowed defenses to focus most of their attention on the Redskins' young wide receiver core. Entering the season, Paul Richardson was the only wideout to play in more than three NFL games.
Despite this inexperience, the Redskins passing offense has been competent through two weeks. Quarterback Case Keenum has completed nearly 70% of his passes, threw for 601 yards and added five touchdowns. Third-round rookie Terry McLaurin has gobbled up 10 receptions for 187 of those yards and two touchdowns. Since 2007, only two receivers have recorded at least 60 yards receiving and a touchdown in each of their first two NFL games -- McLaurin and six-time Pro Bowler Calvin Johnson.
Still, those statistics do not satisfy McLaurin if the Redskins lose in the process.
"We got to bounce back," McLaurin said in front of his locker Monday afternoon. "We got a Monday Night Football game that's real important. We know how important these division games are, but we can't go backwards. We got to push forward."
A consistent running game would certainly help. Thus far, the Redskins rank in the bottom three in the league in attempts (30), yards (75) and yards per rush (2.5). Second-year running back Derrius Guice kicked off the 2019 campaign with a 10-carry, 18-yard performance in a 32-27 loss to the Eagles, then landed on Injured Reserve with a knee injury. In his place, Peterson rushed 10 times for 25 yards and a touchdown against Dallas, which left FedExField with a 31-21 win.
Gruden attributed these woes to a variety of factors, starting with the holding penalties that have killed several offensive drives. He added the offensive line must improve their blocking at the point of attack and have more success engaging linebackers. That way, the running backs will not have to make cuts in the backfield to avoid defenders. They can instead focus on using their vision to locate running lanes.
These are fixable issues, Peterson noted after the Cowboys game. And by shoring them up, the offense will become more balanced -- and therefore more dangerous -- as the season progresses.
"It's a long season. We can roll off six in a row with the talent that we have on both sides of the ball," Peterson said. "The most important thing is gonna be watching film and seeing: 'We could've done this better, we could've done this better.' It's not necessarily what they're doing -- take the hat off to those guys. If we execute our job better on both sides of the ball, then we're not playing from behind."
An even bigger cause for concern has been the Redskins defense, which was seen by many as the strength of this year's team entering the season. The unit currently ranks 30th in yards allowed per game (445) and points allowed per game (31.5). It allowed Philadelphia and Dallas to rush for a combined 336 yards. Through two games, only the Miami Dolphins have allowed more.
The lack of a pass rush has been one reason for this, Gruden said, but injuries and inexperience have also played a role. On Sunday, the Redskins were without starters along the defensive line (Jonathan Allen) and in the secondary (Quinton Dunbar). Key reserves Caleb Brantley and Fabian Moreau were also unable to go because of injuries.
These absences thrust second-year man Tim Settle into the starting lineup up front. They also forced veterans Dominique Rodgers-Cromartie and seventh-round rookie Jimmy Moreland into the first-team secondary. Add in the new faces at linebacker -- namely rookies Cole Holcomb and Montez Sweat and offseason signee Jon Bostic -- and there's a bigger learning curve for this unit than in past years.
But to players such as Moreland and Settle, that's no excuse the group's first two showings.
"We gotta stay together," Moreland said. "A lot of people are going to try to pull us apart. Media out there is going to try to pull us apart, but it's an 0-2 start. We got 14 more games to get better. Hopefully we can come out with the right mindset Monday night."
"It's a part of overcoming adversity," Settle added. "When your name is called, you gotta be able to step up. That's a part of being in the league; you gotta be able to play, you gotta be able to step up, you gotta be able to make something happen when you step on the field. Nothing else to say about that, it's just the NFL."
The team's next chance to "make something happen" comes in primetime against the Chicago Bears. By then, its youthful contributors will have had another week of NFL experience. Injured players such as Reed, Allen, Moreau and Dunbar will have had more time to recover. The coaching staff will have had more practices, walk-throughs and meetings to limit their weaknesses and fine-tune their strengths.
Their progress in these areas will culminate on Monday Night Football, where the Redskins are hoping to bounce back from a pair of early defeats.
"We lost to Dallas and Philadelphia, two of our rivals, and we don't like that at all," Gruden said. "But there's a lot of football left. We have a young football team that's going to develop and grow. We need veterans to step up and take this team by the throat, and I think it will happen. I still feel very optimistic about the future of this football team."