Gameday Graphic for Game on 12/13/2009


The Redskins resume AFC West play on Sunday, Dec. 13 when they travel to Oakland to take on the Raiders at Oakland-Alameda County Coliseum. Kickoff is 4:05 p.m. ET.
Oakland-Alameda County Coliseum, which opened in 1966, is a bluegrass surface. The stadium seats 63,026.
It's the third of four AFC West games the Redskins play this season.
The Redskins are 1-1 against the AFC West so far this season. In Week 6, they lost to the Kansas City Chiefs 14-6 at FedExField. In Week 10, they defeated the Denver Broncos 27-17 also at FedExField.
The Redskins are 0-6 in road games this season and enter the game having lost nine consecutive road contests. Their last road win was Nov. 23, 2008 when they defeated Seattle 20-17 at Qwest Field.
The Redskins are coming off a 33-30 loss to the New Orleans Saints at FedExField.
The Raiders upset the Pittsburgh Steelers 27-24 at Heinz Field.
The Redskins-Raiders game will be broadcast regionally on FOX. Dick Stockton calls the play-by-play and Charles Davis provides color commentary.
On radio, the game will be broadcast locally on the Redskins Radio Network. Larry Michael calls the play-by-play with former Redskins and Hall of Famers Sonny Jurgensen and Sam Huff adding color commentary. Former Redskin Rick 'Doc' Walker reports from the sidelines.
Jorge Andres and Mario Alfaro call the game in Spanish on ESPN Deportes 730.
---
PROJECTED STARTING LINEUPS
Official Redskins-Raiders FlipCard (PDF)
OFFENSE
Pos.
Redskins
Raiders
WR
89 Santana Moss
15 Johnnie Lee Higgins
LT
76 Levi Jones
75 Mario Henderson
LG
66 Derrick Dockery
76 Robert Gallery
C
61 Casey Rabach
64 Samson Satele
RG
71 Mike Williams
66 Cooper Carlisle
RT
74 Stephon Heyer
74 Cornell Green
TE
86 Fred Davis
80 Zach Miller
WR
11 Devin Thomas
81 Chaz Schilens
QB
17 Jason Campbell
5 Bruce Gradkowski
FB
45 Mike Sellers
44 Luke Lawton
RB
31 Rock Cartwright
25 Justin Fargas
DEFENSE
Pos.
Redskins
Raiders
DE
99 Andre Carter
92 Richard Seymour
DT
96 Cornelius Griffin
93 Tommy Kelly
DT
92 A. Haynesworth
61 Gerard Warren
DE
93 Phillip Daniels
99 Greg Ellis
LB
98 Brian Orakpo
54 Sam Williams
LB
59 London Fletcher
52 Kirk Morrison
LB
52 Rocky McIntosh
53 Thomas Howard
LCB
23 DeAngelo Hall
37 Chris Johnson
RCB
27 Fred Smoot
21 Nnamdi Asomugha
SS
37 Reed Doughty
24 Michael Huff
FS
30 LaRon Landry
33 Tyvon Branch
SPECIAL TEAMS
Pos.
Redskins
Raiders
P
3 Hunter Smith
9 Shane Lechler
K
6 Shaun Suisham
11 S. Janikowski
H
3 Hunter Smith
9 Shane Lechler
LS
67 Ethan Albright
59 Jon Condo
KOR
31 Rock Cartwright
23 Jonathan Holland
PR
82 A. Randle El
15 Johnnie Lee Higgins
---
The Redskins and Raiders have played 11 times, with the Redskins trailing the series by a 3-8 count.
The Redskins are 1-3 in road games against the Raiders, which includes three games in Oakland and one in Los Angeles.
Washington won the last game in Oakland, 29-19 on Nov. 29, 1998.
The Raiders won the last meeting 16-13 at FedExField on Nov. 20, 2005, as kicker Sebastian Janikowski converted two fourth quarter field goals for the win.
Clinton Portis rushed for 92 yards on 22 carries and Mark Brunell was 14-of-32 for 155 yards. Lemar Marshall scored the Redskins' only touchdown on a 17-yard interception return early in the first quarter.
In the biggest game of the series, the Redskins and Raiders met in Super Bowl XVIII on Jan. 22, 1984. The Raiders, then playing in Los Angeles, upset the Redskins 38-9 in Tampa, Fla.
The Raiders jumped out to a 14-3 lead. Late in the second quarter, linebacker Jack Squirek intercepted a Joe Theismann pass and raced five yards for a touchdown to give the Raiders a commanding 21-3 edge heading into halftime.
In the second half, running back Marcus Allen scored two touchdowns, including one on a memorable 74-yard scamper through the Redskins' defense, to lead the Raiders to the championship.
---
REDSKINS 2009 RANKINGS
Offense
Rank
Yards/Game
Total Offense
21
321.2
Rushing Offense
22
101.0
Passing Offense
18
220.2
Defense
Rank
Yards/Game
Total Defense
9
312.0
Rushing Defense
24
121.8
Passing Defense
5
190.2
 </tbody>

RAIDERS 2009 RANKINGS
Offense
Rank
Yards/Game
Total Offense
31
247.8
Rushing Offense
24
104.7
Passing Offense
32
143.1
Defense
Rank
Yards/Game
Total Defense
29
378.9
Rushing Defense
30
158.7
Passing Defense
18
220.2
---
FAMILIAR FACES ON THE RAIDERS
Linebackers coach Mike Haluchak was an assistant coach with the Redskins from 1994-06.
Offensive tackle Cornell Green was with the Redskins in 2000 preseason.
Wide receiver Shaun Bodiford, on the Raiders' practice squad, was on the Redskins' roster for three weeks in 2007 but did not play in any games.
Player personnel scout Angelo Coia played wide receiver for the Redskins from 1964-65.
---
REDSKINS-RAIDERS NEWS & NOTES
-- So Close, Yet So Far Away
The Redskins have played 28 consecutive games (including postseason) that have been decided by 17 points or less, a mark that is third-most in NFL history.
The Indianapolis Colts of 1994-96 hold the record with 40 consecutive games decided by 17 points or less. The New York Jets of 1999-2000 are second with 31 consecutive games.
Washington's most recent game decided by more than 17 points occurred in the 2007 postseason, when the Redskins lost to the Seattle Seahawks 35-14. One week earlier, in the regular season finale, the Redskins defeated the Dallas Cowboys 27-6.
The Redskins largest differential since the start of the 2008 season is 17 points, set in a 23-6 loss to the Pittsburgh Steelers on Nov. 3, 2008,
Washington is also on pace to set an NFL mark for smallest average margin of team's games in the expansion era (since 1960).
The Redskins' average margin of their 12 games this season is 5.6, which is tied for the lowest since 1960 with the Tampa Bay Buccaneers of 1982 and the Colts of 1995. The New York Giants of 1982 are second with an average margin of 5.8. The mark set by the Buccaneers and Giants were in a strike-shortened season.
The 1967 Redskins held the mark for 15 years with an average margin of 6.0.
The Redskins have signed place kicker Graham Gano to the roster and released Shaun Suisham. Gano, a rookie out of Florida State, was with Baltimore in preseason but lost the Ravens' kicking job to Steve Hauschka.
Gano was with the Las Vegas Locomotives of the United Football League earlier this year. He converted 14-of-16 field goals, including a league-high 53-yarder, and also kicked the game-winner in the UFL championship game.
At Florida State, Gano won the Lou Groza Award as the league's best kicker and earned All-America honors during his senior season. He made 24-of-26 field goals, including 18 in a row, for the Seminoles.
Gano, 6-1 and 200 pounds, replaces Suisham, who has served as the Redskins' kicker since December 2006.
Suisham, who was 18-of-21 on field goals for the Redskins this season, missed a 23-yard field goal in the fourth quarter of last Sunday's game vs. New Orleans. It proved to be a critical miss, as the Saints rallied to defeat the Redskins 33-30.
-- Campbell Keeps On Moving Up
With Jason Campbell's three touchdown passes last Sunday vs. New Orleans, he moved past Gus Frerotte for seventh all-time in Redskins history.
Campbell now has 50 career touchdown passes (in 48 career starts), two ahead of Frerotte.
Campbell also moved past Frerotte into seventh all-time with 9,966 passing yards.
His 367 yards passing against New Orleans was a career-high, surpassing his previous best of 348 set at Dallas on Nov. 18, 2007.
It was Campbell's sixth career 300-yard passing day and his first since Week 3 of this season when he threw for 340 yards at Detroit.
The Redskins have placed running back Clinton Portis on injured reserve, the team announced on Tuesday. Portis is still recovering from a concussion he suffered on Nov. 8 at Atlanta.
"We felt at this juncture in the season, it was best to place Clinton on injured reserve," executive vice president of football operations Vinny Cerrato said. "After consulting with our medical staff and other specialists, Clinton's prognosis is good and we expect him to make a full recovery and return to the Redskins."
Portis played in eight games this season and rushed for 494 yards on 124 carries and one touchdown. He also caught nine passes for 57 yards and a touchdown.
For his career, Portis has compiled 9,696 rushing yards on 2,176 carries and 73 touchdowns. He has caught 81 passes for 290 yards and five touchdowns.
-- Third Quarter's The Charm
Through 12 games this season, Washington has been dominant in the third quarter.
The Redskins have outscored opponents in the third quarter this season by a 69-to-13 margin, a 56-point differential.
The trend continued even against the undefeated New Orleans Saints, the NFC's top team, last week when the Redskins outscored the Saints 10-3 in the third quarter.
The Arizona Cardinals are second with a 72-to-31 scoring margin in the the third quarter, a 41-point differential.
The Redskins have allowed the fewest points in the third quarter with 13.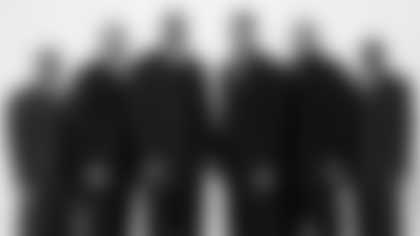 -- Redskins Team Captains
The Redskins have elected captains for the offense, defense and special teams.
For the offense, it's quarterback Jason Campbell and left tackle Chris Samuels.
For the defense, it's defensive tackle Cornelius Griffin and linebacker London Fletcher.
For special teams, it's running back Rock Cartwright and fullback Mike Sellers.
Sellers is the newcomer of the captains this year. The other five were also voted team captains in 2008.
-- Raiders' Lechler Bests Baugh
Shane Lechler has a career 47.3-yard punting average, which is the highest in NFL history for players with at least 250 attempts.
His average surpassed Redskins Hall of Famer Sammy Baugh, who had a 45.1-yard career punting average.
This season, Lechler has recorded 76 punts for a league-best 51.5-yard average and a 44.4-yard net.
He has recorded at least one punt of more than 50 yards in every game in 2009. He has also had 10 punts of 60 yards or more this year.
Lechler set an NFL record from 2003-05 when he went 33 consecutive games with at least one punt of more than 50 yards
Washington's strength of schedule for 2009 was ranked 16th in the NFL at .492. Their opponents' 2008 cumulative record was 125-129-2.
The Redskins play a total of seven games against 2008 playoff teams, with four of those games against NFC East foes Philadelphia and New York.
The Miami Dolphins have the NFL's toughest schedule at .594. Their opponents' 2008 cumulative record was 152-104.
The Chicago Bears have the NFL's easiest schedule at .414. Their opponents' 2008 cumulative record was 105-149-2.
The Redskins' starting defensive line of Phillip Daniels, Cornelius Griffin, Albert Haynesworth and Andre Carter has combined for 176.5 career sacks.
That's the most of any current starting defensive line in the NFL.
Carter leads the Redskins' defensive line with nine sacks this season. He has 61.5 in his career and 29.5 in five seasons with the Redskins.
Albert Haynesworth's 27 career sacks is tied for 10th among active defensive tackles.
The Redskins lead the NFL in red zone efficiency, allowing opponents only eight touchdowns in 29 trips, a 27.6 percent clip.
Last week vs. New Orleans, the Redskins stopped the Saints four times in the red zone, yielding four field goals.
Two weeks ago in Philadelphia, the Redskins stopped the Eagles three times in the red zone, forcing three field goals.
The Redskins' defense also leads the NFL in fourth-down efficiency. They stopped the Saints on one fourth-down attempt last week.
Joe Bugel served as Oakland's head coach in 1997--and it wasn't a great moment for the legendary Redskins coach.
He guided the Raiders to a disappointing 4-12 season that included five consecutive losses to finish the season.
Bugel served as assistant head coach-offense with the Raiders in 1995-96 before being promoted to head coach.
He coached the famous "Hogs" offensive line with the Redskins from 1981-89 and returned to the franchise in 2004 to oversee the offensive line once again.
-- Maryland's Heyward-Bey
The Oakland Raiders drafted University of Maryland wide receiver Darrius Heyward-Bey with the seventh-overall selection in the 2009 NFL Draft.
Heyward-Bey has struggled to get in the offensive rhythm as a rookie, catching nine passes for 124 yards and one touchdown this season.
He caught his first NFL touchdown pass at Dallas on Nov. 26 when he grabbed a 4-yarder from quarterback Bruce Gradkowski.
Heyward-Bey played alongside Redskins offensive lineman Edwin Williams and cornerback Kevin Barnes at Maryland in 2008.
The Redskins will travel 16,356 miles in 2009, the 21st most in the NFL. They have the shortest travel schedule in the NFC East.
The Seattle Seahawks travel 29,054 miles, most in the NFL. The Cleveland Browns travel 7,554 miles, least in the NFL.
The total distance traveled by all NFL teams is 578,912 miles. This is 18,128 fewer miles than 2008, when teams traveled a total of 597,040.
Washington hosts consecutive games against the NFC East, starting with the New York Giants on Monday Night Football on Dec. 21 at FedExField. Kickoff is 8:30 p.m. ET.
The Redskins lost to the Giants 23-17 in Week 1 at the Meadowlands.
After the Giants, Washington hosts the Dallas Cowboys on Sunday, Dec. 27. The Redskins are 0-4 against the NFC East so far this season.