Gameday Graphic for Game on 12/7/2008


The Redskins travel north--about 35 miles--to Baltimore to take on the Ravens on Sunday, Dec. 7 at M&T Bank Stadium. Kickoff is 8:15 p.m. ET.
The game was flexed to Sunday night as part of the NFL's flexible scheduling.
Washington has not played a regular season game in Baltimore since 1978, when the Redskins lost to the Colts 21-17 at Memorial Stadium.
M&T Bank Stadium, which opened in 1998, has an artificial surface called SportExe Momentum Turf. It seats 71,008.
Sunday night's matchup is the first of two road games against AFC North opponents. After the Ravens, the Redskins travel to Cincinnati to face the Bengals.
The Redskins are 1-1 in AFC North play. They defeated the Cleveland Browns 14-10 in Week 7 and lost to the Pittsburgh Steelers 23-6 in Week 9.
The Redskins have won four consecutive road games and are 4-1 away from FedExField. Their only loss on the road was Week 1 to the New York Giants.
In the last five years, the Redskins are 2-8 in AFC road games.
The Redskins-Ravens game will be televised on NBC. Al Michaels does the play-by-play with color commentary by John Madden. Andrea Kremer serves as sideline reporters.
On radio, the game will be broadcast locally on ESPN 980. Larry Michael handles the play-by-play with color commentary by Hall of Famers Sonny Jurgensen and Sam Huff. Rick "Doc" Walker serves as sideline reporter.
The game will be also be broadcast nationally on the Westwood One Radio Network. Dave Sims does the play-by-play with color commentary by Jim Fassel.
---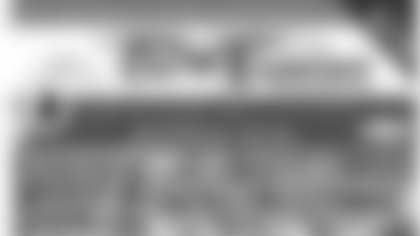 ---
PROJECTED STARTING LINEUPS
OFFENSE
Pos.
Redskins
Ravens
WR
89 Santana Moss
89 Mark Clayton
LT
60 Chris Samuels
71 Jared Gaither
LG
66 Pete Kendall
66 Ben Grubbs
C
61 Casey Rabach
60 Jason Brown
RG
77 Randy Thomas
65 Chris Chester
RT
76 Jon Jansen
79 Willie Anderson
TE
47 Chris Cooley
86 Todd Heap
WR
82 Antwaan Randle El
85 Derrick Mason
QB
17 Jason Campbell
5 Joe Flacco
FB
45 Mike Sellers
33 Le'Ron McClain
RB
26 Clinton Portis
23 Willis McGahee
DEFENSE
Pos.
Redskins
Ravens
DE
99 Andre Carter
90 Trevor Pryce
DT
96 Cornelius Griffin
92 Haloti Ngata
DT
64 Kedric Golston
94 Justin Bannan
DE/LB
55 Jason Taylor
95 Jarret Johnson
SLB
54 H.B. Blades
52 Ray Lewis
MLB
59 London Fletcher
57 Bart Scott
WLB
52 Rocky McIntosh
55 Terrell Suggs
LCB
27 Fred Smoot
31 F. Washington
RCB
22 Carlos Rogers
22 Samari Rolle
SS
48 Chris Horton
36 Jim Leonhard
FS
30 LaRon Landry
20 Ed Reed
SPECIAL TEAMS
Pos.
Redskins
Ravens
P
1 Ryan Plackemeier
4 Sam Koch
K
6 Shaun Suisham
3 Matt Stover
H
1 Ryan Plackemeier
4 Sam Koch
LS
67 Ethan Albright
79 Matt Katula
KOR
31 Rock Cartwright
16 Yamon Figurs
PR
82 Antwaan Randle El
16 Yamon Figurs
---
The Redskins and Ravens have played three times in the regular season, with the Ravens holding a 2-1 series lead.
The last time the two clubs played in the regular season was 2004, when the Ravens defeated the Redskins 17-10 at FedExField.
In that game, the Redskins jumped out to a 10-0 lead, but Ravens safety Ed Reed stripped quarterback Mark Brunell of the ball on a blitz, recovered the fumble and raced 22 yards for a touchdown.
Then Ravens kick returner B.J. Sams returned a punt 78 yards for another touchdown in what proved to be the game-winning points.
The Redskins and Baltimore Ravens have played four times in the preseason, with the Ravens holding a 3-1 edge.
---
REDSKINS 2008 RANKINGS
Offense
Rank
Yards/Game
Total Offense
13
339.1
Rushing Offense
5
139.4
Passing Offense
20
199.7

Defense
Rank
Yards/Game
Total Defense
6
283.0
Rushing Defense
7
90.8
Passing Defense
7
192.2
RAVENS 2008 RANKINGS
Offense
Rank
Yards/Game
Total Offense
19
323.5
Rushing Offense
3
143.8
Passing Offense
27
178.8

Defense
Rank
Yards/Game
Total Defense
2
253.3
Rushing Defense
3
78.3
Passing Defense
2
175.1
---
FAMILIAR FACES ON THE RAVENS
Offensive coordinator Cam Cameron was the quarterbacks coach for the Redskins from 1994-96. He helped develop the skills of quarterbacks Trent Green and Gus Frerotte during his tenure in Washington.
Quarterbacks coach Hue Jackson was with the Redskins from 2001-03, serving as running backs coach from 2001-02 and offensive coordinator-running backs coach in 2003.
Secondary coach Mark Carrier played defensive back for the Redskins in 2000.
Assistant strength and conditioning coach John "Mother" Dunn served as head strength and conditioning coach for the Redskins from 2004-05.
Director of college scouting Eric DeCosta had his first NFL experience with a 1995 internship with the Redskins' player personnel department.
---


REDSKINS-RAVENS NEWS & NOTES

-- Zorn's First Season As Head Coach
Jim Zorn is 7-5 in his first 12 games as Redskins head coach. He is aiming to lead the Redskins to their third winning season in the last four years.
Zorn is looking to become the seventh Redskins head coach to record a winning record in his first year at the helm.
The list of first-year head coaches with winning records includes Ray Flaherty (7-5 in 1936), Dutch Bergman (6-3-1 in 1943), Dudley DeGroot (6-3-1 in 1944), Dick Todd (5-4 in 1951), Vince Lombardi (7-5-2 in 1969) and George Allen (9-4-1 in 1971).
Seven first-year head coaches finished their rookie campaign with a .500 mark, while 12 finished with a losing record.
The Ravens also entered the season with a first-year head coach in John Harbaugh.
Harbaugh has guided the Ravens to an 8-4 mark so far this season.
Harbaugh made a point to telephone Zorn congratulating him after his first NFL win when the Redskins defeated the New Orleans Saints in Week 2.
Both the Redskins and Ravens enter Sunday's contest as two of the best running teams in the NFL.
Washington's 139.4 rushing yards per game ranks fifth in the NFL behind the New York Giants, Atlanta Falcons, Ravens and Minnesota Vikings.
Clinton Portis leads the Redskins' ground attack with 1,228 yards, second-best in the NFL behind the Vikings' Adrian Peterson.
The unit gets stronger as the game goes on.
The Redskins' 476 rushing yards in the fourth quarter are the second-most in the league this season and their 27 fourth quarter touchdowns are third-best in the league.
Portis has been a majer factor in closing out games. His 21 fourth quarter first downs via the ground is a league high.
-- Rabach Returns to Baltimore
Casey Rabach got his start in Baltimore, the team that drafted him in the third round of the 2001 NFL Draft.
In 2004, the year before he signed with the Redskins, Rabach started 15 games at center and one at left guard for the Ravens. The 6-1, 305-pounder paved the way for Jamal Lewis's third consecutive 1,000-yard rushing season and helped the Ravens' offense compile more than 2,000 rushing yards on the season.
At the time, the Ravens were committed to Mike Flynn as their long-term answer at center, though.
"I knew the day was coming when I would leave," Rabach said after signing with the Redsins. "[The Ravens] had their starting center up there and they made that clear when they signed Mike back. There are no ill feelings toward them. It was just time to move on.
"What a great feeling it was to come down here to Washington. Everything kind of fell into place."
Since joining the Redskins, Rabach has missed just one game. He has helped solidify a veteran offensive line.
Flynn has since moved on from the Ravens. He was with New England in preseason earlier this year.
-- Randle El and Cam Cameron
From 1997-2001, Ravens offensive coordinator Cam Cameron was head coach at Indiana University. He recruited and developed then-quarterback Antwaan Randle El, now a Redskins wide receiver.
"Antwaan was a great high school football quarterback," Cameron said in a 2007 interview when he was head coach of the Miami Dolphins. "Some people just didn't want to take a chance on him [at quarterback], but we knew he was a quarterback."
Added Randle El: "Cam gave me an opportunity. He was a coach, and then after that he was more of a friend. Not many college teams were willing to let me play quarterback. He was the only one who I felt I could truly trust would allow me to play quarterback."
The Landry brothers--LaRon and Dawan--had hoped to play together in an NFL regular season game for the first time on Sunday. But Dawan suffered a neck injury earlier this season. He was eventually placed on injured reserve.
LaRon was the Redskins' first-round draft pick in 2007. Dawan Landry was the Ravens' fifth-round draft pick in 2006.
This season, his second as a starter in the Redskins' secondary, LaRon has recorded 58 tackles, a half-sack, one interception and eight passes defended.
The Redskins acquired DeAngelo Hall on Nov. 8 and he has immediately paid dividends. He has two interceptions in his first three games as a Redskin.
His first came in his Redskins debut on Nov. 16 when he picked off Dallas's Tony Romo. His second came on Nov. 30 when he picked off New York Giants' Eli Manning.
Hall is tied for second in the NFL with five interceptions, trailing only Pittsburgh's Troy Polamalu, who has six.
Hall collected his first three interceptions this season as a member of the Oakland Raiders.
Chris Cooley caught his second NFL touchdown, a 7-yarder from Mark Brunell, the last time the Redskins and Ravens played in a regular season game. That was on Oct. 10, 2004.
This season, Cooley has continued a streak by catching a pass in 68 consecutive contests dating back to Week 9 of the 2004 season.
A Pro Bowl selection in 2007, Cooley is second among NFL tight ends with 66 catches, trailing only Kansas City's Tony Gonzalez, who has 73.
Cooley's 701 receiving yards are third among NFL tight ends behind Gonzalez (806) and Dallas's Jason Witten (709).
With Cooley and Santana Moss, the Redskins are one of five teams to have two of the top 22 pass catchers in the NFL. Cooley is ranked ninth and Moss is ranked 21st. (Moss has 57 receptions this year.)
Rookie left tackles Stephon Heyer for the Redskins and Jared Gaither of the Ravens were teammates at the University of Maryland from 2004-06.
Heyer joined Washington as an undrafted rookie and started three games at right tackle earlier this season,
Gaither joined the Redskins as a fifth-round selection in the NFL's Supplemental Draft in 2007. He has started 11-of-12 games at left tackle for the Ravens this season.
-- Fletcher Reaches Century Mark
London Fletcher has compiled 106 tackles so far this season. It is the 10th consecutive season that he has reached 100 or more tackles in a season.
Fletcher has started 131 consecutive games, the sixth-longest streak among active players.
His 106 tackles ranked him sixth in the NFL and third in the NFC.
The Redskins have elected six players as captains for the 2008 season. They wear a black "C" on their jersey during games.
On offense, Jason Campbell amd Chris Samuels are the captains.
On defense, Cornelius Griffin and London Fletcher are the captains.
On special teams, Rock Cartwright and Khary Campbell are the captains.
Washington travels to Cincinnati to take on the Bengals at Paul Brown Stadium. Kickoff is 1 p.m. ET.
It's the Redskins' first visit to Cincinnati since the 2006 preseason.
The last time the Redskins played in Cincinnati in the regular season was in 1991.