Gameday Graphic for Game on 12/14/2008


Mike Sellers kept chugging, his feet moving against a mass of bodies. The Redskins' offense was at the doorstep of a game-tying touchdown in the third quarter of Sunday's game against the Cincinnati Bengals.
Sellers lunged forward again, trying with all his might to score.
Bengals linebacker Corey Mays batted the ball from Sellers' hands.
Mays pounced on the ball in the end zone. Referees ruled it was a turnover and gave possession to the Bengals.
Perhaps sensing the Redskins' season was on the line, head coach Jim Zorn challenged the call, arguing that Sellers' forward momentum had stopped.
After review, the play stood.
The Redskins would go on to lose to the Bengals 20-13 at Paul Brown Stadium.
It was a disappointing loss--even a bit stunning--to a Bengals team that had one win in 13 games this season.
The Redskins dropped to 7-7 on the season. They have lost three consecutive games and five of their last six to drop to the fringes of the NFC playoff race.
Jason Campbell and the Redskins' offense struggled to get in rhythm through most of the game. He completed 17-of-28 passes for 167 yards and a 10-yard touchdown pass to Santana Moss.
Clinton Portis posted 25 carries for 77 yards. He also caught one pass for six yards, but had a key drop late in the fourth quarter.
Overall, the Redskins' offense generated just 15 first downs and 280 total yards against a Bengals defense ranked 24th in the NFL.
The Redskins were also undone by a season-high nine penalties for 75 yards, including several on special teams that hampered the offense with field position.
A fitting symbol of the Redskins' frustrating day at Paul Brown Stadium?
London Fletcher had an easy interception in his grasp midway through the second quarter, but he could not hold on as wide receiver Chris Henry was able to strip the ball away.
Fletcher, one of the team's admired leaders and a team captain, punched the ground in frustration.
The Redskins had hoped to get off to a fast start against the Bengals, but a turnover on their opening drive proved costly.
On the game's third play, Campbell found Chris Cooley across the middle of the field for a 19-yard pickup, but Cooley absorbed a hard hit by safety Chris Crocker and the ball popped loose.
Linebacker Dhani Jones scooped up the fumble and returned it to the Redskins' 41-yard line, giving Cincinnati excellent starting field position.
The Bengals found some running room against the Redskins' usually stout defense, moving the ball to the 1-yard line on quarterback Ryan Fitzpatrick's 14-yard scramble.
Fitzpatrick capped the drive by rolling left and racing untouched into the end zone for a 1-yard touchdown run.
The defense was fooled as Fitzpatrick faked a handoff to running back Cedric Benson, leaving the left side of the field open.
Later in the first quarter, the Bengals used a big play to get in scoring range again.
Fitzpatrick threw a screen pass to Benson, who picked up a block by right guard Bobbie Williams and fond open field down the right sideline. Benson raced downfield and was eventually tackled by Carlos Rogers after a 79-yard gain.
One play later, Fitzpatrick threw a 12-yard touchdown pass to Henry, who got a step on Rogers in a one-on-one matchup.
For the second week in a row, the Redskins trailed a team 14-0 at the end of the first quarter.
The Bengals kept the pressure on early in the second quarter, as kicker Shayne Graham converted a 32-yard field goal to extend the lead to 17-0.
Meantime, the Redskins' offense struggled most of the first half.
Following Cooley's turnover on the opening series, the offense posted four consecutive 3-and-out possessions.
It took 21 minutes of the game clock for the unit to pick up a first down.
Midway through the second quarter, Zorn huddled with Portis, Sellers and running backs coach Stump Mitchell for what appeared to be an impromptu meeting on the sidelines.
On the Redskins' next drive, the offense started with excellent field position at the Bengals' 40-yard line.
Portis had four consecutive carries to gain 23 yards and finally moved the Redskins into scoring range.
On 3rd-and-4 at the Bengals' 10-yard line, Campbell had time in the pocket and found Moss open in the back of the end zone. Campbell fired to Moss, who grabbed the pass for a 10-yard touchdown catch.
Moss was flagged for unsportsmanlike conduct after he celebrated his touchdown by wiping his shoes with a towel. It was uncharacteristic of Moss, but the infraction did not end up costing the Redskins..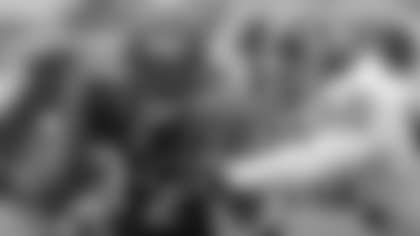 Redskins vs. Bengals](/media-gallery/photos/week-14-redskins-vs-bengals/A683FB9B-D53F-493B-B134-A3C85D8DAFF7)

Late in the first half, the Redskins got the ball back and marched downfield as Campbell completed a pair of passes to Moss and a 14-yarder to Sellers.
After Portis and Ladell Betts picked up chunks of yards on the ground, Campbell found Fred Davis on a crossing pattern for a 15-yard pickup to the Bengals' 9-yard line.
On 3rd-and-goal at the 5, Campbell was pressured and had to throw the ball away. Incomplete pass.
The Redskins had to settle for a 23-yard field goal by Shaun Suisham, narrowing the Bengals' lead to 17-10 heading into halftime.
The Redskins maintained momentum in the third quarter.
Campbell completed 15-yard and 20-yard passes to Moss. He also scrambled for a 17-yard pickup, skirting tackles along the way.
Later in the drive, Portis picked up 10 yards to the right to get the ball to the Bengals' 7-yard line.
Three plays later, on 2nd-and-goal at the 1-yard line, Sellers took a quick handoff and charged into the line of scrimmage. The play was initially ruled a touchdown, but replay overturned the score.
It was 3rd-and-goal at the 1. Same play. Sellers took a quick handoff again and was stopped almost immediately.
He kept chugging, though, and tried to lunge across the goal line, but Mays was there to cause the fumble in what proved to be a game-turning play
A scoring opportunity was lost.
"Obviously they played us very tough at the goal line," Zorn said. "That drive flipped the momentum in the game."
Added Campbell: "We worked so hard to get down there--it was an 87-yard drive. To not get any points--that was tough and it kind of deflated us after that. But we are professionals, we have to find a way to respond."
The Redskins' offense could not regain momentum.
In the fourth quarter, on a 3rd-and-9 play, Campbell was pressured into an incomplete pass and he suffered an elbow injury on the play.
Campbell would return to the game on the next drive, but his 3rd-and-3 slant pass to Moss was off the mark, forcing another punt.
Moss was hit hard on the play and lay motionless for a moment, but he got up and later returned to the game.
With 9:33 left, the Bengals took over possession at their own 32-yard line. They would go on to convert three first downs, including a 4th-and-1 dive by Fitzpatrick, to take time off the clock and move into field goal range.
Graham kicked a 45-yard field goal to give Cincinnati a commanding 20-10 lead with 2:20 left.
Rock Cartwright returned the ensuing kickoff 87 yards to the Bengals 13-yard line. He followed strong blocking to weave into open field, but he could not out-run the Bengals' Leon Hall to the end zone.
The offensive frustration continued.
Portis picked up no yards on a run to the right. Then Campbell's pass to Cooley was deflected by linebacker Daryl Blackstock and fell incomplete.
On third down, Portis dropped a screen pass amid traffic.
Instead of going for it on fourth down, Zorn opted for the field goal to narrow the Bengals' lead to one score.
Suisham came on to convert a 36-yard field goal. That narrowed the Bengals' lead to 20-13.
With 1:43 left, the Redskins would have to try an on-sides kick to get the ball back.
Suisham's attempt bounced once, but then sailed 20 yards to the right sideline and out of bounds.
The Bengals took over possession of the ball--and the game.
For the Redskins, the optimism of a 6-2 start was long gone. While they remain mathematically still in the playoff hunt, a once-promising season is slipping away. Fast.
---
The Redskins head to Cincinnati to take on the Bengals on Sunday, Dec. 14 at Paul Brown Stadium. Kickoff is 1 p.m. ET.
Paul Brown Stadium, which opened in 2000, has an artificial surface called FieldTurf. It seats 65,790.
Washington has not played a regular season game in Cincinnati since 1991, when the Redskins defeated the Bengals 34-27 at Riverfront Stadium.
Sunday's matchup is the second of two consecutive road games against AFC North opponents.
The Redskins are 1-2 in AFC North play. They defeated the Cleveland Browns 14-10 in Week 7 and lost to the Pittsburgh Steelers 23-6 in Week 9 and Baltimore Ravens 24-10 in Week 13.
The Redskins are 4-2 away from FedExField this season.
In the last five years, the Redskins are 2-9 in AFC road games.
The Redskins-Bengals game will be televised on FOX. Kenny Albert does the play-by-play call with color commentary by Daryl Johnston. Tony Siragusa serves as sideline reporter.
On radio, the game will be broadcast locally on ESPN 980. Larry Michael handles the play-by-play with color commentary by Hall of Famers Sonny Jurgensen and Sam Huff. Rick "Doc" Walker serves as sideline reporter.
---
PROJECTED STARTING LINEUPS
OFFENSE
Pos.
Redskins
Bengals
WR
89 Santana Moss
85 Chad Ocho Cinco
LT
74 Stephon Heyer
76 Levi Jones
LG
66 Pete Kendall
62 Nate Livings
C
61 Casey Rabach
53 Eric Ghiaciuc
RG
77 Randy Thomas
63 Bobbie Williams
RT
69 Jason Fabini
79 Stacy Andrews
TE
47 Chris Cooley
82 Reggie Kelly
WR
82 Antwaan Randle El
84 T.J. Houshmandzadeh
QB
17 Jason Campbell
11 Ryan Fitzpatrick
FB
45 Mike Sellers
49 Daniel Coats
RB
26 Clinton Portis
32 Cedric Benson
DEFENSE
Pos.
Redskins
Bengals
DE
99 Andre Carter
68 Jonathan Fanene
DT
96 Cornelius Griffin
94 Domata Peko
DT
64 Kedric Golston
97 John Thornton
DE
55 Jason Taylor
98 Antwan Odom
SLB
54 H.B. Blades
93 Rashad Jeanty
MLB
59 London Fletcher
57 Dhani Jones
WLB
52 Rocky McIntosh
59 Brandon Johnson
LCB
23 DeAngelo Hall
20 David Jones
RCB
22 Carlos Rogers
29 Leon Hall
SS
48 Chris Horton
41 Chinedum Ndukwe
FS
30 LaRon Landry
26 Marvin White
SPECIAL TEAMS
Pos.
Redskins
Bengals
P
1 Ryan Plackemeier
19 Kyle Larson
K
6 Shaun Suisham
17 Shayne Graham
H
1 Ryan Plackemeier
19 Kyle Larson
LS
67 Ethan Albright
48 Brad St. Louis
KOR
31 Rock Cartwright
16 Glenn Holt
PR
82 Antwaan Randle El
84 T.J. Houshmandzadeh
---
The Redskins and Bengals have played seven times in the regular season, with the Redskins holding a 4-3 series lead.
Cincinnati is 2-1 all-time at home against Washington, but the Redskins won the last meeting there, in 1991, by a 34-27 score. This will be the first regular season meeting between the two franchises at Paul Brown Stadium.
The Bengals won the last matchup 17-10 on Nov. 14, 2004, at FedExField.
In that game, the Bengals jumped out to a 17-0 lead in the first half. Mark Brunell started at quarterback for the Redskins and was 1-of-8 for six yards before getting benched for Patrick Ramsey.
Ramsey, who threw 18-of-37 for 210 yards, threw a 9-yard touchdown pass to Chris Cooley to narrow the lead. He had an opportunity to drive down the field for a game-tying touchdown, but his last pass was intercepted by safety Kim Herring.
The Redskins played the Bengals at Paul Brown Stadium in 2006 preseason, losing 19-3. The Bengals lead the preseason series with a 5-2-1 mark.
---
REDSKINS 2008 RANKINGS
Offense
Rank
Yards/Game
Total Offense
16
332.5
Rushing Offense
7
133.5
Passing Offense
19
199.1

Defense
Rank
Yards/Game
Total Defense
5
282.8
Rushing Defense
10
95.2
Passing Defense
7
187.7
BENGALS 2008 RANKINGS
Offense
Rank
Yards/Game
Total Offense
32
233.9
Rushing Offense
29
78.4
Passing Offense
30
155.5

Defense
Rank
Yards/Game
Total Defense
24
348.2
Rushing Defense
23
125.8
Passing Defense
22
222.3
---
FAMILIAR FACES ON THE BENGALS
Head coach Marvin Lewis served as assistant head coach and defensive coordinator with the Redskins in 2002. He joined the Bengals as head coach in 2003.
Linebackers coach Jeff FitzGerald was a defensive assistant with the Redskins from 1998-99.
Assistant special teams-assistant linebackers coach Paul Guenther served as an offensive assistant and quality control coach with the Redskins from 2002-03.
Strength and conditioning coach Chip Morton served as a strength and conditioning coach with the Redskins in 2002.
Offensive lineman Andrew Crummey spent time on the Redskins' practice squad in 2008. He had joined the Redskins as an undrafted rookie free agent in the 2008 offseason.
Backup quarterback Jordan Palmerwas with the Redskins in 2007. The brother of Bengals quarterback Carson Palmer, Jordan was a sixth-round draft pick by the Redskins in 2007. He was released by the Redskins after training camp.
Running back Kenny Watson was with the Redskins from 2001-02. He signed with the Redskins in 2001 as an undrafted rookie and earned a roster spot coming out of preseason. In 2002, he rushed for 534 yards and one touchdown and caught 32 passes for 253 yards and one touchdown.
---



REDSKINS-BENGALS NEWS & NOTES

-- Zorn's First Season As Head Coach
Jim Zorn is 7-6 in his first 13 games as Redskins head coach. He is aiming to lead the Redskins to their third winning season in the last four years.
Zorn is looking to become the seventh Redskins head coach to record a winning record in his first year at the helm.
The list of first-year head coaches with winning records includes Ray Flaherty (7-5 in 1936), Dutch Bergman (6-3-1 in 1943), Dudley DeGroot (6-3-1 in 1944), Dick Todd (5-4 in 1951), Vince Lombardi (7-5-2 in 1969) and George Allen (9-4-1 in 1971).
Seven first-year head coaches finished their rookie campaign with a .500 mark, while 12 finished with a losing record.
On Nov. 7, 2004, Chris Cooley was held without a catch in the Redskins' 17-10 win over the Detroit Lions.
A week later, Cooley caught one pass, a 9-yard TD pass from Patrick Ramsey, against the Cincinnati Bengals.
It started a streak in which Cooley has now caught a pass in 69 consecutive contests for the Redskins.
A Pro Bowl selection in 2007, Cooley is second among NFL tight ends with 67 catches this year, trailing only Kansas City's Tony Gonzalez, who has 78.
Cooley's 713 receiving yards are third among NFL tight ends and his receptions of 25 yards or more rank fourth among NFL tight ends.
Since 2004, Cooley leads NFL tight ends with 1,713 yards after the catch.
In 13 games this season, Washington has played seven games against the NFL's top nine offensive units.
The defense, ranked fifth in the NFL and second in the NFC, has held 11 of 13 opponents below their current season average of yards per game.
The unit has forced opposing offenses to 3-and-outs on 45 of 141 possessions, which is second best in the NFL behind only Baltimore.
The Redskins and Pittsburgh Steelers are the only two teams that have not given up more than 25 points in a game this season.
Additionally, the Redskins' defense has only allowed 59 points in the fourth quarter tis season, an average of 4.5 per game. That's the third-lowest total behind Baltimore and Tennessee.
Washington ranks 31st in the NFL in overall red zone scoring percentage at 76.9. But the Bengals ranked 31st in the category defensively with a 95.5 percentage.
Bengals middle linebacker Dhani Jones, who has previously played for NFC East's New York Giants and Philadelphia Eagles, continues to make his home in Potomac, Md.
The Bengals are 9-2-1 in their last 12 homes games against NFC teams. Going back a bit further, the Bengals are 20-9-1 at home against the NFC since 1993.
Jason Fabini went to college at the University of Cincinnati.
The Redskins have elected six players as captains for the 2008 season. They wear a black "C" on their jersey during games.
On offense, Jason Campbell amd Chris Samuels are the captains.
On defense, Cornelius Griffin and London Fletcher are the captains.
On special teams, Rock Cartwright and Khary Campbell are the captains.
Washington returns to FedExField to take on NFC East rival Philadelphia Eagles on Sunday, Dec. 21. Kickoff is 4:15 p.m. ET.
The Redskins defeated the Eagles 23-17 at Lincoln Financial Field in Week 5 earlier this season.