Gameday Graphic for Game on 9/14/2008


Amid a sweltering day at FedExField, the Redskins turned up the heat against the New Orleans Saints in the fourth quarter and rallied for a 29-24 win.
In dramatic fashion, it was Santana Moss who caught a 67-yard touchdown pass from Jason Campbell to provide the winning points.
Trailing 24-22 late in the fourth quarter, Campbell dropped back to pass and watched Moss run a post pattern against rookie cornerback Tracy Porter.
Campbell lofted the deep pass as Moss got a step on Porter.
Moss caught the ball in stride and raced into the end zone for a 67-yard touchdown catch.
FedExField erupted in celebration.
"It was just so cool," said Jim Zorn, who recorded his first NFL victory as head coach. "Those are the things we're trying to teach Jason, and he took a big step forward."
The Redskins won their first game of the 2008 regular season, evening their record at 1-1.
Campbell finished the game with 24-of-36 completions for 321 yards. Moss was his top beneficiary with seven catches for 164 yards and the touchdown. Chris Cooley added five catches for 72 yards.
Clinton Portis led a hard-nosed ground game that compiled 149 rushing yards. He rushed for 96 yards on 21 carries and had two second-half touchdowns.
The defense turned in several big plays critical to the win.
Rookie Chris Horton, starting for an ill Reed Doughty, had a big day. He intercepted two passes, including one in the fourth quarter that sealed the win for the Redskins, and recovered a fumble.
Horton also joined Cornelius Griffin on a stop of running back Pierre Thomas on 3rd-and-1 late in the fourth quarter. The tackle forced the Saints to punt.
Next play after the punt? Moss's game-winning touchdown.
The Redskins' defense also limited the Saints' ground game to just 55 yards. Dynamic running back Reggie Bush had just 10 rushes for 28 yards, although he did lead the Saints with 7 catches for 63 yards.
In the first half, the Redskins' offense was able to move the ball into scoring range time and again, but they faltered in the end zone.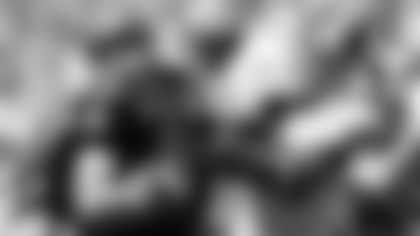 Redskins-Saints](/media-gallery/photos/week-2-redskins-saints/CC90FEF5-D126-4005-B69E-1EF26DB4E4DC)

On the game's opening drive, Campbell completed passes to Antwaan Randle El, Moss and Malcolm Kelly to pick up first downs.
The drive stalled at the Saints' 31-yard line when Campbell threw incomplete on a screen pass to Ladell Betts. Campbell hesitated on the throw as he was pressured up the middle.
Shaun Suisham came on for a 48-yard field goal attempt. His kick was wide left, a frustrating end to the Redskins' first drive.
On the Saints' first drive, quarterback Drew Brees completed a pass to tight end Jeremy Shockey, but Rocky McIntosh forced a fumble. Horton out-raced London Fletcher to recover the ball.
The offense was set up at their own 33-yard line. On a wide receiver reverse, Moss took a handoff and raced around left end for a 27-yard gain. Then Campbell threw to Randle El for 11 yards to the Saints' 12-yard line.
The drive stalled when Portis was stopped short of a first down on a short pass from Campbell on third down.
Suisham connected on a 22-yard field goal for the first points of the game.
Fred Smoot helped give the ball back to the Redskins when he tipped away a Brees pass to wide receiver David Patten. The ball floated in the air and fell into the arms of Horton for an interception at the Saints' 27-yard line.
The Redskins' offense could not convert a first down on the ensuing drive, so it was up to Suisham again.
His 36-yard attempt sailed through the uprights to give the Redskins a 6-0 lead.
Midway through the second quarter, the Redskins turned the ball over to the Saints when Randle El fielded a punt and had the ball pop loose from his arms. Troy Evans recovered the fumble for the Saints at the Redskins' 27-yard line.
Brees threw 14 yards to Jeremy Shockey and 11 yards to running back Pierre Thomas to pull the Saints closer.
Thomas ran into the end zone for a 1-yard touchdown to give the Saints a 7-6 lead.
Later in the second quarter, the Redskins moved into scoring position again, thanks to strong running by Portis and a 15-yard roughing the passer penalty on Saints defensive tackle Sedrick Ellis.
Again, the Redskins could not convert a red zone opportunity into a touchdown.
Suisham came on for a 30-yard attempt, but holder Durant Brooks mishandled the snap and the kick sailed wide left.
As the first half wound down, the Redskins' offense moved into the red zone yet again.
Campbell threw a short pass to Cooley, who bounced off four tacklers for a 27-yard gain to the Saints' 18-yard line.
Two plays later, Campbell had to throw away a third-down pass to James Thrash in the end zone.
It was Suisham time again. He converted a 35-yard field goal to give the Redskins the lead.
New Orleans took the lead back with a drive to close out the first half.
Brees completed a 22-yard pass to wide receiver David Patten and a 12-yard pass to Bush to get the ball to the Redskins' 32-yard line.
Kicker Martin Gramatica nailed a 49-yard field goal to give the Saints a 10-9 halftime lead.
The Saints opened the second half with an impressive drive. Brees converted two third down plays, throwing for 18 yards to Thomas and 12 yards to Patten.
At the Redskins' 19-yard line, Brees found time in the pocket and threw a touchdown pass to wide receiver Robert Meachem to extend the Saints lead to 17-9.
On the ensuing drive, Portis picked up 13 yards on a run to the left. Then Campbell threw a short pass to Moss, who broke a tackle and raced down the right sideline for a 27-yard pickup.
Betts picked up 18 yards on two carries to move the Redskins into scoring range.
Two plays later, Portis took a handoff and raced around left end. He followed blocks by Chris Samuels and Mike Sellers to slip into the end zone for a 9-yard touchdown run.
The Redskins could not convert the 2-point conversion, though, as Campbell's pass was intercepted in the end zone. The score remained 17-15.
Late in the third quarter, the Redskins' special teams faltered. On a punt, Brooks' kick was wobbly and short, traveling just 38 yards to Bush.
Bush swerved left to elude a tackler. Two more Redskins were blocked out of the way to clear a path down the left sideline for Bush.
He raced into the end zone for a 55-yard punt return for a touchdown.
Trailing by nine on the scoreboard midway through the fourth quarter, the Redskins' offense started to play with a greater sense of urgency.
First play was a downer, though. Campbell was sacked by defensive end Will Smith for a 12-yard loss to open a drive.
Campbell responded by completing a 23-yard pass downfield to Chris Cooley for a first down.
Two plays later, Campbell threw a quick slant pass to Moss, who broke a tackle and weaved his way downfield for a 25-yard pickup.
At the Saints' 8-yard line, Campbell faked a pass and handed off to Portis up the middle.
Portis stepped left and burst past a block by Casey Rabach to race into the end zone for an 8-yard touchdown run.
Down 24-22, momentum had swung in the Redskins' favor.
The Redskins' defense stepped up on the Saints' next drive. On a critical 3rd-and-1 play, Griffin and Horton combined to stop Thomas for no gain, forcing a punt.
It took one play after the punt--Campbell to Moss, 67 yards--for the Redskins to pull off the dramatic comeback win.
It was a satisfying win for Zorn and Campbell, who were under intense scrutiny after the Redskins' disappointing offensive performance in Week 1 against the New York Giants.
"It feels good," Campbell said. "There have been a lot of games where we've come back and fought and fought, but we can't finish it off at the end. I do feel like I've grown a bit after this. It's a great feeling to come out with a win."
---
The Redskins host the New Orleans Saints on Sunday, Sept. 14 in the regular season home opener at FedExField. Kickoff is 1 p.m. ET.
FedExField is a natural grass surface. The stadium seats 91,704.
The game will be televised on FOX. Dick Stockton handles the play-by-play, with Brian Baldinger and Brian Billick serving as color analysts and Laura Omkin reporting from the sidelines.
On radio, the game will be broadcast locally on ESPN 980. Larry Michael handles the play-by-play with color commentary by Hall of Famers Sonny Jurgensen and Sam Huff. Rick "Doc" Walker will serve as sideline reporter.
The game will also be broadcast on Westwood One radio with Bill Rosinski handling play-by-play and Dan Reeves serving as color analyst.
The Redskins are coming off a 16-7 season-opening loss to the New York Giants on Sept. 4.
The offense struggled against the Super Bowl champions, recording just 209 total yards and 11 first downs. Jason Campbell was 15-of-27 passes for 133 yards and one touchdown. The defense yielded 154 rushing yards.
The Saints defeated the Tampa Bay Buccaneers 24-20 at the Superdome to open their season. Drew Brees completed 23-of-32 passes for 343 yards, three touchdowns and one interception.
---
PROJECTED STARTING LINEUPS
OFFENSE
Pos.
Redskins
Saints
WR
89 Santana Moss
12 Marques Colston
LT
60 Chris Samuels
70 Jammal Brown
LG
66 Pete Kendall
67 Jamar Nesbit
C
61 Casey Rabach
76 Jonathan Goodwin
RG
77 Randy Thomas
73 Jahri Evans
RT
74 Stephon Heyer
78 Jon Stinchcomb
TE
47 Chris Cooley
88 Jeremy Shockey
WR
82 Antwaan Randle El
19 Devery Henderson
QB
17 Jason Campbell
9 Drew Brees
FB
45 Mike Sellers
44 Mike Karney
RB
26 Clinton Portis
25 Reggie Bush
DEFENSE
Pos.
Redskins
Saints
DE
99 Andre Carter
94 Charles Grant
DT
96 Cornelius Griffin
71 Kendrick Clancy
DT
64 Kedric Golston
98 Sedrick Ellis
DE
55 Jason Taylor
91 Will Smith
SLB
53 Marcus Washington
55 Scott Fujita
MLB
59 London Fletcher
51 Jonathan Vilma
WLB
52 Rocky McIntosh
58 Scott Shanle
LCB
24 Shawn Springs
34 Mike McKenzie
RCB
22 Carlos Rogers
42 Jason David
SS
37 Reed Doughty
41 Roman Harper
FS
30 LaRon Landry
43 Kevin Kaesviham
SPECIAL TEAMS
Pos.
Redskins
Saints
P
14 Durant Brooks
7 Steve Weatherford
K
6 Shaun Suisham
1 Martin Gramatica
H
14 Durant Brooks
7 Steve Weatherford
LS
67 Ethan Albright
47 Kevin Houser
KOR
31 Rock Cartwright
23 Pierre Thomas
PR
82 Antwaan Randle El
25 Reggie Bush
---
The Saints and Redskins are playing for the 22nd time, with the Redskins leading the series by a 14-7 count. Overall, the Redskins are 6-4 when hosting the Saints at D.C. Stadium, RFK Stadium or FedExField.
The series has been marked by many close games. Nine of the 21 games have been decided by a touchdown or less.
The Redskins won the last meeting 16-10 at the Superdome on Dec. 17, 2006.
The last time the two clubs played at FedExField was in 2002 when the Saints defeated the Redskins 24-20. Quarterback Aaron Brooks scored twice to lead New Orleans to victory.
---
REDSKINS 2008 RANKINGS
Offense
Rank
Yards/Game
Total Offense
28
209.0
Rushing Offense
25
84.0
Passing Offense
29
125.0

Defense
Rank
Yards/Game
Total Defense
24
354.0
Rushing Defense
26
154.0
Passing Defense
20
200.0
SAINTS 2008 RANKINGS
Offense
Rank
Yards/Game
Total Offense
5
438.0
Rushing Offense
22
101.0
Passing Offense
2
337.0

Defense
Rank
Yards/Game
Total Defense
23
352.0
Rushing Defense
24
146.0
Passing Defense
21
206.0
---
FAMILIAR FACES ON THE SAINTS
Wide receiver David Patten played with the Redskins from 2005-06. He signed with the Redskins as an unrestricted free agent on March 2005 but was plagued by injuries both seasons in Washington. In 14 games, Patten caught 23 passes for 242 yards with the Redskins.
Backup quarterback Mark Brunell played with the Redskins from 2004-07. He joined the Redskins in March 2004 as part of a trade with the Jacksonville Jaguars. Brunell was a key participant in one of the most memorable games in franchise history. He threw two fourth-quarter touchdown passes to Santana Moss to rally the Redskins to a 14-13 win over the Dallas Cowboys in September 2005. He played in 35 games with the Redskins, completing 59 percent of his passes for 6,033 yards, 38 touchdowns and 20 interceptions.
Quarterbacks-passing game coach Pete Carmichael, Jr., served as a quality control coach for the Redskins in 2001.
Practice squad tight end Buck Ortega was with the Redskins in the 2006 preseason. A University of Miami product, Ortega was a close friend and teammate of the late Sean Taylor. Ortega spoke at Taylor's funeral on Dec. 3, 2007.
---
REDSKINS-SAINTS NEWS & NOTES
Washington is 44-29-3 all-time in home openers, including 7-4 at FedExField.
This is the first time since 2002 that the Redskins' home opener comes in Week 2. The Redskins have opened the regular season at FedExField each of those years, wining five of the six games.
Last year, the Redskins defeated the Miami Dolphins 16-13 in the Week 1 opener at FedExField.
Santana Moss's 12-yard touchdown catch from Jason Campbell in the second quarter against the New York Giants marked the fourth straight game in which he has caught a touchdown.
The mark includes the Redskins' Wild Card playoff game at Seattle last season.
It's the second-longest streak of Moss's career, trailing the seven straight games he caught a touchdown pass in Weeks 5-11 of 2003.
With a touchdown catch against the Saints, Moss would become the first Redskin since Charlie Brown in the first five weeks of 1982 to record a TD grab in five straight games.
Chris Cooley has caught a pass in 57 straight regular season contests, dating back to Week 9 of the 2004 season.
Since 2004, Chris Cooley ranks second with most touchdowns by a tight end. He has 27 touchdowns, second only to San Diego's Antonio Gates, who has 41. Indianapolis's Dallas Clark is third with 24 touchdown grabs and New Orleans' Jeremy Shockey is fifth with 23.
Cooley leads the NFL in yards after the catch (YAC) by tight ends since 2005. He has 1,212 yards after catches. Gates is second with 1,065 yards.
Cooley needs 13 catches to pass Redskins great Don Warren for second place on the Redskins' career receptions list by a tight end. (Jerry Smith is first.)
With seven receptions, Cooley would tie Larry Brown for 10th all-time in Redskins history with 238.
-- Ties to New Orleans Region
Greg Blache is a New Orleans native. He previously served on the coaching staff at Tulane from 1976-80 and later at Southern University in 1986.
LaRon Landry is from Ama, La., a suburb of New Orleans. He played college football at LSU.
Jason Campbell grew up in Taylorsville, Miss., which is roughly 1.5 hours from New Orleans.
Chris Samuels grew up in Mobile, Ala., which is about an hour from New Orleans.
Chris Horton is a New Orleans native. His grandfather was among the casualties from the Hurricane Katrina tragedy in 2005.
Demetric Evans hails from Haynesville, La., which is in the northern part of the state.
Rock Cartwright's 50-yard kickoff return against the Giants was the longest in the NFL in Week 1. Cartwright's 145 kickoff return yards also lead the NFL.
With Chris Wilson's fourth-quarter sack of Eli Manning, he now has four sacks in the Redskins' last three games. He is looking to become the first Redskin to register a sack in four straight games since Phillip Daniels did it in the 2005 season.
Despite a knee injury, Jason Taylor started his 131st consecutive game. That streak is currently the seventh longest in the NFL. Taylor needs 4.5 sacks to tie Clyde Simmons for 13th on the NFL's all-time list.
In four career games against the Saints, Andre Carter has registered five sacks.
Antwaan Randle El has 17 catches in his last two games, including the playoff loss to Seattle last season. He has 25 catches over his last four games.
Saints head coach Sean Payton has served as an assistant coach for three NFC East teams: Philadelphia Eagles (1997-98), New York Giants (1999-2002) and Dallas Cowboys (2003-05).
In two-plus seasons as head coach of the Saints, Payton has compiled a 19-16 record.
New Orleans Saints offensive assistant coach Joe Lombardi is the grandson of Hall of Fame legend Vince Lombardi, who was head coach and executive vice president of the Redskins in 1969. (Vince Lombardi passed away following the 1969 season.)
Joe Lombardi also coached tight ends and tackles at Virginia Military Institite in 1999.
The Redskins have elected six players as captains for the 2008 season.
On offense, Jason Campbell amd Chris Samuels are the captains.
On defense, Cornelius Griffin and London Fletcher are the captains.
On special teams, Rock Cartwright and Khary Campbell are the captains.
FedExField is the largest stadium in the NFL with 91,704 seats. It is more than 11,000 seats ahead of the second biggest stadium, Giants Stadium.
The Redskins set a single-game attendance record--90,910--in the Dec. 30, 2007 game against the Dallas Cowboys.
The Redskins stay at FedExField for another week, as they host the Arizona Cardinals on Sept. 21 in Week 3.
It's the second year in a row the Redskins play the Cardinals at FedExField. Last year, the Redskins won 21-19 as Arizona missed a last-second field goal.