Gameday Graphic for Game on 9/21/2008


The Redskins stayed one step ahead of the Arizona Cardinals on Sunday. They fended off a late comeback and won 24-17 at FedExField.
Through the first three quarters, the Redskins would build a lead only to have Arizona come back to tie the game.
When it mattered most, late in the fourth quarter, the Redskins' defense forced a 3-and-out, shutting down the Cardinals.
And for the second week in a row, the Redskins put the game away by going for the jugular on offense.
With 1:59 left, Jason Campbell threw a 26-yard pass to Chris Cooley to give the offense a first down. The Cardinals had no time outs left, so the play basically sealed the win for the Redskins.
With the victory, the Redskins improved to 2-1 on the season.
"We're developing confidence," Jim Zorn said. "It was a total team effort."
Campbell produced another strong game, completing 23-of-31 passes for 193 yards and two touchdowns.
Santana Moss led the offense with seven catches for 75 yards and one touchdown, a 17-yard game-winner. It was Moss's second game-winning touchdown in the last two games.
It was tough running for Clinton Portis against a hard-nosed Arizona defense, but he still managed 68 yards on 21 carries.
He had a 2-yard touchdown run for the Redskins' first points of the game.
On defense, the Redskins put a focus on pressuring quarterback Kurt Warner while disrupting pass routes by dynamic wide receivers Anquan Boldin and Larry Fitzgerald.
Fitzgerald had a big game, with seven catches for 109 yards, including a 62-yard touchdown catch in the second half.
Otherwise, the defense contained the high-powered Cardinals offense.
Rocky McIntosh turned in a strong game, leading the Redskins with seven tackles, a half-sack and a forced fumble.
And Carlos Rogers' interception in the fourth quarter helped set up the Redskins' game-winning score.
Washington opened the game with a steady, plodding drive, converting two third-down plays along the way as they moved deep into Arizona territory.
Campbell helped the cause with a 16-yard scramble up the middle of the Cardinals' defense.
On 2nd-and-goal at the Cardinals' 3-yard line, Portis took a handoff and shifted to the left. He found a huge hole opened up by Casey Rabach and Pete Kendall for a 3-yard touchdown run.
Late in the first quarter, the Redskins' defense forced its first turnover of the game.
Warner threw a pass in the flat to running back Edgerrin James. Reed Doughty converged on James, and McIntosh leveled a jarring tackle to poke the ball loose.
Rogers recovered the fumble at the Cardinals' 34-yard line.
The Redskins could not pick up a first down, though, so they settled for a 48-yard field goal by Shaun Suisham and a 10-0 Redskins lead.
Midway through the second quarter, the Cardinals got off on a steady, plodding drive of their own.
Warner passed to Fitzgerald for 18 yards, and then he converted a third down with a 6-yard pass to running back Tim Hightower.
After Rogers was called for pass interference, the Cardinals tried some trickery.
Warner threw a lateral to tight end Jerheme Urban, who then threw across field to Hightower for a 20-yard gain.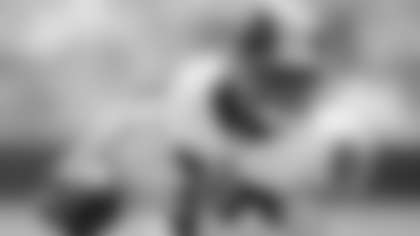 Redskins-Cardinals](/media-gallery/photos/week-3-redskins-cardinals/A56517CD-6F75-41F5-9E25-5F8C50B56628)

At the 4-yard line, Warner then threw a slant pass to Boldin, who was in one-on-one coverage with Fred Smoot.
Boldin caught the pass in front of Smoot for a 4-yard touchdown catch.
The Cardinals kept momentum with their first offensive drive of the third quarter.
Warner completed a 3rd-and-7 pass to Boldin for 14 yards. Fred Smoot was flagged for roughing the passer, adding another 15 yards on to the play.
At the Redskins' 9-yard line, Jason Taylor tipped a Warner pass on 3rd-and-goal, forcing the Cardinals to settle for a field goal attempt. Neil Rackers connected on a 26-yarder to tie the game at 10-10.
Washington responded with some trickery of its own in the third quarter.
Thomas took a handoff on a wide receiver reverse and raced 16 yards into Cardinals territory.
Then Antwaan Randle El took a handoff on another reverse. He looked deep, but Moss was not open downfield. So Randle El threw to Cooley for an 11-yard pickup.
One play later, Cooley caught a screen pass and had Chris Samuels and Mike Sellers blocking in front of him. Cooley weaved past tacklers for 16 yards before being pushed out of bounds at the Cardinals' 2-yard line.
On the next play, Campbell faked a handoff to Portis and rolled right. He found Todd Yoder open in the end zone for a 2-yard touchdown pass, giving the Redskins the lead at 17-10.
The Cardinals struck back quickly, though, to tie the game again.
Fitzgerald, covered one-on-one by Rogers, ran up-field and put a double-move on Doughty downfield. He broke free and caught Warner's deep pass in stride for a 62-yard touchdown catch.
Early in the fourth quarter, the Redskins' defense turned in a big play.
Warner threw another deep pass, this time to wide receiver Steve Breaston. The ball bounded off Breaston's helmet, and Rogers leaped for the ball.
Rogers made a diving interception and quickly got up with the ball. He crossed field and ran 42 yards down the right sideline to Arizona's 15-yard line.
One play later, Moss caught a screen pass to the right and found a wall of blockers, including Stephon Heyer and Randy Thomas, in front of him. He slipped past tacklers for a 17-yard touchdown reception.
Washington was ahead for good at 24-17.
The Redskins had a chance to blow the game open midway through the fourth quarter when Campbell connected with Thomas on what appeared to be a 68-yard touchdown pass. The play was called back, though, as Heyer was called for unnecessary roughness.
Later on the drive, Suisham missed a 52-yard field goal attempt, giving Arizona possession at the 42-yard line to start a drive.
With 3:18 left on the clock, the Redskins' defense needed a stop.
They forced a 3-and-out. The Redskins got the ball back with 2:33 left in the game.
In Week 2, it was Campbell throwing to Moss on 4th-and-2 to cement a win over the Saints. On Sunday, it was Campbell's 26-yard pass to Cooley that sealed the victory.
---
The Redskins host the Arizona Cardinals on Sunday, Sept. 21 at FedExField. Kickoff is 1 p.m. ET.
FedExField is a natural grass surface. The stadium seats 91,704.
The game will be televised on FOX. Kenny Albert handles the play by play with color commentary by Daryl Johnston. Tony Siragusa serves as sideline reporter.
On radio, the game will be broadcast locally on ESPN 980. Larry Michael handles the play-by-play with color commentary by Hall of Famers Sonny Jurgensen and Sam Huff. Rick "Doc" Walker serves as sideline reporter.
The Redskins are 1-0 at FedExField this season. They are coming off a 29-24 come-from-behind win over the New Orleans Saints last Sunday at FedExField.
Jason Campbell threw a 67-yard touchdown pass to Santana Moss late in the fourth quarter and Clinton Portis rushed for two touchdowns as the Redskins rallied to beat the Saints.
Defensively, Chris Horton logged two interceptions and a fumble recovery in the win.
The Cardinals are in first place in the NFC West with a 2-0 record. It is the first time they have started 2-0 since 1991, when current Redskins offensive line coach Joe Bugel was at the helm as head coach.
They are coming off a 31-10 win against the Miami Dolphins at University of Phoenix Stadium.
Arizona rolled up 445 yards of total offense, with quarterback Kurt Warner passing for 361 yards and three TDs, all to wide receiver Anquan Boldin.
The Cardinals have scored 20 points for an NFL-best 10 consecutive games.
---
PROJECTED STARTING LINEUPS
OFFENSE
Pos.
Redskins
Cardinals
WR
89 Santana Moss
11 Larry Fitzgerald
LT
60 Chris Samuels
69 Mike Gandy
LG
66 Pete Kendall
74 Reggie Wells
C
61 Casey Rabach
63 Lyle Sendlein
RG
77 Randy Thomas
76 Deuce Lutui
RT
74 Stephon Heyer
75 Levi Brown
TE
47 Chris Cooley
82 Leonard Pope
WR
82 Antwaan Randle El
81 Anquan Boldin
QB
17 Jason Campbell
13 Kurt Warner
FB
45 Mike Sellers
45 Terrelle Smith
RB
26 Clinton Portis
32 Edgerrin James
DEFENSE
Pos.
Redskins
Cardinals
DE
99 Andre Carter
94 Antonio Smith
DT
96 Cornelius Griffin
97 Bryan Robinson
DT
64 Kedric Golston
90 Darnell Dockett
DE
55 Jason Taylor
55 Travis LaBoy
SLB
53 Marcus Washington
56 Chike Okeafor
MLB
59 London Fletcher
54 Gerald Hayes
WLB
52 Rocky McIntosh
58 Karlos Dansby
LCB
24 Shawn Springs
26 Rod Hood
RCB
22 Carlos Rogers
25 Eric Green
SS
37 Reed Doughty
24 Adrian Wilson
FS
30 LaRon Landry
21 Antrel Rolle
SPECIAL TEAMS
Pos.
Redskins
Cardinals
P
14 Durant Brooks
9 Dirk Johnson
K
6 Shaun Suisham
1 Neil Rackers
H
14 Durant Brooks
9 Dirk Johnson
LS
67 Ethan Albright
48 Nathan Hodel
KOR
31 Rock Cartwright
15 Steve Breaston
PR
82 Antwaan Randle El
15 Steve Breaston
---
Since Arizona was a divisional rival in the NFC East prior to NFL realignment in 2002, Washington has played the Cardinals franchise 112 times in regular season play.
The Redskins hold the series lead 69-42-1. The record includes games against the Cardinals franchise when it was located in Chicago, St. Louis and Arizona.
Washington also holds a 44-18 advantage at home and a 6-1 record in games played at FedExField.
The Redskins are currently on a six-game winning streak against Arizona. Prior to that, the Cardinals had won three of five contests.
The last five games between the two clubs have been decided by 10 points or less.
The last time the two clubs played was on Oct. 21, 2007, at FedExField.
London Fletcher picked off quarterback Kurt Warner and followed a caravan of Redskins into the end zone for a 27-yard interception return for a touchdown. The Redskins built a 21-6 lead in the second half.
Arizona rallied in the fourth quarter, scoring two touchdowns, but a game-tying 2-point conversion attempt failed.
The Cardinals had one last chance as kicker Neil Rackers attempted a game-winning field goal with seven seconds left. The kick sailed wide left.
---
REDSKINS 2008 RANKINGS
Offense
Rank
Yards/Game
Total Offense
11
332.0
Rushing Offense
15
116.5
Passing Offense
13
215.5

Defense
Rank
Yards/Game
Total Defense
14
302.0
Rushing Defense
17
104.5
Passing Defense
19
197.5
CARDINALS 2008 RANKINGS
Offense
Rank
Yards/Game
Total Offense
7
365.0
Rushing Offense
19
95.0
Passing Offense
5
270.0

Defense
Rank
Yards/Game
Total Defense
7
263.5
Rushing Defense
10
90.0
Passing Defense
12
173.5
---
FAMILIAR FACES ON THE CARDINALS
Head coach Ken Whisenhunt played for the Redskins as a tight end and H-back from 1989-90. Whisenhunt played nine NFL seasons with the Atlanta Falcons, Redskins and New York Jets. In 74 career games, he caught 62 passes for 601 yards and six touchdowns.
Assistant head coach-offensive line Russ Grimm played for the Redskins from 1981-91. He also served as tight ends coach for the Redskins from 1992-96 and offensive line coach from 1997-2000. Grimm started 11 seasons at guard for the Redskins and helped lead the team to four Super Bowl appearances and three victories.
Quarterbacks coach Jeff Rutledge played quarterback for the Redskins from 1990-92.
Cornerback Ralph Brown was with the Redskins in the 2004 offseason, but he was released by the club prior to training camp.
---
REDSKINS-CARDINALS NEWS & NOTES
-- First-Year Head Coaches
Head coach Jim Zorn aims to lead the Redskins to their third winning season in the last four years.
He is also looking to become the seventh Redskins head coach to record a winning record in his first year at the helm.
The list of first-year head coaches with winning records includes Ray Flaherty (7-5 in 1936), Dutch Bergman (6-3-1 in 1943), Dudley DeGroot (6-3-1 in 1944), Dick Todd (5-4 in 1951), Vince Lombardi (7-5-2 in 1969) and George Allen (9-4-1 in 1971).
Seven first-year head coaches finished their rookie campaign with a .500 mark, while 12 finished with a losing record.
Russ Grimm, the Cardinals' assistant head coach-offensive line, is regarded as one of the greatest Redskins in team history.
Grimm started 11 seasons at guard for the Redskins from 1981-91 and helped lead the team to four Super Bowl appearances and three victories.
He was voted to four consecutive Pro Bowls, was a first-team selection to the 1980s all-decade team, and an original member of the Redskins' renowned "Hogs" offensive line.
As a Redskins assistant coach, Grimm was credited with the development of tackles Jon Jansen and four-time Pro Bowler Chris Samuels.
A pair of long-time NFL veterans, London Fletcher and Kurt Warner, re-unite on the football field. Fletcher and Warner were both members of the St. Louis Rams in 1999 when they won Super Bowl XXXIV.
Fletcher anchored the Rams' defense from his middle linebacker spot, while Warner directed the Rams' high-powered offense.
Last year in the Redskins' 21-19 win over the Cardinals at FedExField, Fletcher had 10 tackles and returned an interception 27 yards for a touchdown. Warner was 27-of-41 for 282 yards, two touchdowns and two interceptions.
Fletcher has opened 121 consecutive games, a figure which ranks eighth among active players.
Santana Moss's 67-yard touchdown catch from Jason Campbell in the fourth quarter against the New Orleans Saints marked the fifth straight game in which he has caught a touchdown.
The mark includes the Redskins' Wild Card playoff game at Seattle last season.
It's the second-longest streak of Moss's career, trailing the seven straight games he caught a touchdown pass in Weeks 5-11 of 2003.
Moss becomes the first Redskin since Charlie Brown in the first five weeks of 1982 to record a TD grab in five straight games.
Chris Cooley has caught a pass in 58 straight regular season contests, dating back to Week 9 of the 2004 season.
Cooley needs eight catches to pass Redskins great Don Warren for second place on the Redskins' career receptions list by a tight end. (Jerry Smith is first.)
With two more receptions, Cooley would tie Larry Brown for 10th all-time in Redskins history with 238.
Assistant head coach-running backs Stump Mitchell played for the Cardinals franchise from 1981-89. He was a ninth-round draft choice in 1981 by the Cardinals.
Mitchell remains the Cardinals all-time leader in combined yardage with 11,988 yards and ranks second with 4,649 rushing yards on 986 attempts. He has 32 career touchdowns.
His 177 kickoff returns for 4,007 yards are both franchise records for the Cardinals.
Offensive line coach Joe Bugel was the head coach of the Cardinals from 1990-93. He posted a 13-35 record in three seasons.
Offensive quality control coach Bill Khayat served in a similar capacity with the Cardinals from 2004-06.
Left guard Pete Kendall played for the Cardinals from 2001-03.
Jason Campbell ranks second in the NFC in fourth quarter passing, trailing only New York Giants quarterback Eli Manning. Campbell has completed 18-of-26 passes (69.2 percent) for 258 yards and one touchdown for a passer rating of 113.9.
Jason Taylor started his 132nd consecutive game. That streak is currently the seventh longest in the NFL. Taylor needs 3.5 sacks to tie Clyde Simmons for 13th on the NFL's all-time list.
With one more rushing touchdown, Clinton Portis ties Terry Allen (1995-98) for third most in Redskins franchise history with 38.
Justin Hamilton celebrates his 26th birthday on Wednesday, Sept. 17.
-- Warner, Horton: Players of the Week
The reigning NFC Players of the Week will face off against each other on Sunday at FedExField.
Rookie safety Chris Horton won the NFC Defensive Player of the Week honor for his performance against the New Orleans Saints. He intercepted two passes and recovered a fumble in the Redskins' 29-24 win.
Quarterback Kurt Warner won the NFC Offensive Player of the Week honor for his performance against the Miami Dolphins. He completed 19-of-24 passes for 361 yards and three touchdowns.
-- Cards Headed On a Two-Week Road Trip
The Cardinals will pack a little more gear than they normally would for a road trip this week as they head east for back-to-back games against the Redskins and New York Jets. The road trip is basically a 10-day road trip.
The Cardinals will fly to Washington on Friday. Following their game against the Redskins at FedExField, the team will stay in Tysons Corner, Va., for the week of practice leading up to the Jets game.
The club will hold practices at Catholic University in Washington, D.C., which counts Cardinals team president Michael Bidwill as an alum.
The Redskins have elected six players as captains for the 2008 season. They wear a black "C" on their jersey during games.
On offense, Jason Campbell amd Chris Samuels are the captains.
On defense, Cornelius Griffin and London Fletcher are the captains.
On special teams, Rock Cartwright and Khary Campbell are the captains.
Colt Brennan once backed up Cardinals quarterback Matt Leinart at Mater Dei High School in Santa Ana, Calif.
Brennan is the Redskins' third-string quarterback, while Leinart is the backup to Kurt Warner.
FedExField is the largest stadium in the NFL with 91,704 seats. It is more than 11,000 seats ahead of the second biggest stadium, Giants Stadium.
The Redskins set a single-game attendance record--90,910--in the Dec. 30, 2007 game against the Dallas Cowboys.
Dallas Week arrives! The Redskins return to NFC East play as they travel to Dallas to take on the Cowboys at Texas Stadium.
It's the first of two games against the Cowboys this year and it's the last Redskins-Cowboys game ever at Texas Stadium. (The Cowboys move into a new stadium in 2009.)
The Redskins split with the Cowboys last year, losing 28-23 at Texas Stadium and winning 27-6 at FedExField.