Gameday Graphic for Game on 9/28/2008


Texas Stadium has long been a House of Horrors for the Redskins. On Sunday, they had a chance to make amends for a 9-26 all-time record at the Dallas Cowboys' long-time home.
With Dallas moving into a new stadium next year, the Redskins could put a final Texas-sized stamp on the stadium with an upset win over the 3-0, Super Bowl favorite Cowboys.
The Redskins would not let this opportunity slip away.
Led by pinpoint passing by Jason Campbell and an effective defensive game plan, the Redskins defeated the Cowboys 26-24 to improve to 3-1 on the season.
For weeks, the Redskins have been somewhat of an afterthought in the NFC East, but not anymore.
It's a whole new ballgame now.
Put the Redskins in the mix with the Cowboys, Philadelphia Eagles and New York Giants in the NFL's strongest division.
In Sunday's win, Campbell completed 20-of-31 passes for 231 yards and two touchdowns to lead the Redskins' offense. His top target was Santana Moss, who had eight catches for 145 yards.
Campbell threw touchdown passes to James Thrash and Antwaan Randle El in the first half. Shaun Suisham connected on four field goals to round out the Redskins' scoring.
For the fourth game in a row, the Redskins' offense did not commit a turnover.
The defense roughed up the Cowboys' high-powered offense.
The focus early on was stopping the run, which proved to be an effective approach. Once the Redskins had the lead, they employed five and six defensive backs to thwart quarterback Tony Romo and the passing game.
Running back Marion Barber had just 26 yards on eight carries in the game. Overall, the Cowboys had 44 yards on 11 carries in the ground game.
Romo passed for 300 yards on 28-of-47 passing, but most of those yards came late in the fourth quarter as he tried to mount a comeback.
The game began with bright sunlight poking through the famous hole in the roof of Texas Stadium.
Early on, defenses for both teams were impressive.
Cornerback Adam Jones broke up a slant pass to Moss to halt a solid opening drive by the Redskins.
Chris Horton, who started at strong safety, tackled tight end Jason Witten four yards short of a first down to end the Cowboys' first possession.
Then defensive end Chris Canty sacked Campbell to thwart the Redskins again.
Then Fred Smoot broke up a pass to Witten to end another Cowboys drive.
Then Defensive end DeMarcus Ware sacked Campbell to force another punt.
It was back and forth, back and forth, with punters Durant Brooks and Mat McBriar kicking for field position time and again.
It seemed only a matter of time before the Dallas offense would get on track, though.
Late in the first quarter, Romo completed a 23-yard pass to wide receiver Patrick Crayton to move the Cowboys into scoring range.
Then Romo threw downfield to Witten, who had a step on Marcus Washington in coverage, for a 21-yard touchdown pass.
Down 7-0, the Redskins responded.
Portis, who finished with 121 rushing yards on 21 carries, churned out tough yardage, picking up two first downs on solid runs.
Then Campbell threw sideline passes to Randle El for 13 yards and Moss for 15 yards to the Cowboys' 3-yard line.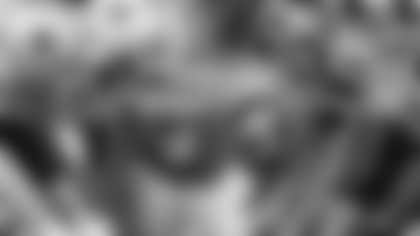 Redskins-Cowboys](/media-gallery/photos/week-4-redskins-cowboys/5DFDCE2A-3BE6-4775-9F36-153964A4728B)

One play later, Campbell found Thrash wide open in the right side of the end zone for a 3-yard touchdown pass.
Thrash celebrated with a spike of the ball that bounded high into the air.
Midway through the second quarter, Campbell eluded a pass rush by Ware, stepped up in the pocket and threw deep to a wide open Moss for a 28-yard gain to the Cowboys' 8-yard line.
After two runs by Portis, Campbell showed his mobility again by moving around in the pocket to avoid pressure. He found Randle El in the end zone for 2-yard touchdown pass.
Randle El celebrated with a bounding spike of the ball, too.
Leading 14-7, the Redskins kept momentum on their next series.
Campbell stepped up in the pocket again and threw deep to Moss, who fooled cornerback Terence Newman on a fly pattern. The pass was under-thrown, but Moss was wide open and eventually hauled in a 53-yard pass to the Cowboys' 8-yard line.
Campbell's fade pass to Moss in the end zone was incomplete, so Suisham connected on a 20-yard field goal to give the Redskins a 17-7 lead.
In the waning minutes of the first half, the Cowboys drove downfield into field goal range.
Nick Folk kicked a 36-yard field goal to close out the scoring in the first half.
In the second half, it was apparent that Dallas wanted to get wide receiver Terrell Owens more involved in the passing game.
Owens, blanketed by Shawn Springs, had been limited to just two catches in the first half.
On the Cowboys' first offensive series of the third quarter, Romo threw to Owens twice for gains of 18 yards and 11 yards to move into scoring range.
Then Barber broke a Demetric Evans tackle and picked up 15 yards to the Redskins' 10-yard line.
Romo went back to Owens on a crossing pattern, and Owens grabbed the ball at the 5-yard line. He weaved his way past tacklers and angled his body into the end zone for a 10-yard touchdown catch just as he was tackled by three Redskins defenders.
With the game tied at 17-17, Portis got the Redskins' offense going in the second half.
On a key 3rd-and-2 play, he took a pitch from Campbell and followed great blocking by Chris Samuels, Pete Kendall and Chris Cooley to race into open field. He was tackled by safety Ken Hamlin after a 31-yard gain.
Then Campbell connected with Moss on a 17-yard pass to the Cowboys' 6-yard line.
Twice, the Redskins were able to push the ball in the end zone, but both times Casey Rabach was flagged for penalties, nullifying the score.
So Washington settled for a 32-yard field goal by Suisham and a narrow 20-17 lead.
Late in the third quarter, Horton came up with another big play.
Leigh Torrence was covering wide receiver Miles Austin one-on-one, and Horton raced over to provide additional coverage.
Horton was able to step in front of Austin and pull in an interception at the Dallas 44-yard line.
The turnover led to another Suisham field goal, this one a 33-yarder, to build a 23-17 lead for the Redskins.
The lead was still too close for comfort, though.
Midway though the fourth quarter, the Redskins' defense forced a 3-and-out as Carlos Rogers helped break up three consecutive passes to Owens.
The Redskins got the ball back and Portis picked up 24 yards on successive runs to move the offense into scoring range.
It appeared the offense was stopped short on a 3rd-and-2 play, but the Cowboys were flagged for having 12 defenders on the field, giving the Redskins a first down.
Later, Suisham connected on a 29-yard field goal to increase the Redskins' lead to 26-17 with 3:19 left in the game.
Desperation time for the Cowboys.
Romo quickly guided the Cowboys downfield, completing passes to Witten and Austin to move the ball deep into Redskins territory.
Then Romo connected with Austin on an 11-yard touchdown pass, narrowing the Redskins' lead to 26-24.
The subsequent on-sides kick loomed large.
Dallas had no time outs left, so the Redskins could seal the win with a recovery.
Folk's on-sides kick was high, and the ball slipped through the grasp of wide receiver Sam Hurd and landed out of bounds.
The Redskins took over possession.
And perhaps most importantly the Redskins staked a claim as legitimate NFC East competitors.
---
The Redskins renew their long-standing rivalry with the Dallas Cowboys on Sunday, Sept. 28 at Texas Stadium. Kickoff is 4:15 p.m. ET.
Texas Stadium, located in Irving, Tex., has a FieldTurf surface. The seating capacity is 66,675.
It's the last regular season matchup for the Redskins and Cowboys at Texas Stadium. The Cowboys move into a new stadium in 2009.
Texas Stadium has been tough on the Redskins over the years. The Redskins are 10-26 at the stadium, which opened in 1971.
In Dallas, the Redskins hold a 12-32-2 mark, a .260 winning percentage.
The Redskins are 0-1 in NFC East play this year. They lost to the New York Giants 16-7 in Week 1 of the regular season.
The game will be televised to a national audience on FOX. Joe Buck handles the play by play with color commentary from Troy Aikman. Pam Oliver will serve as sideline reporter.
On radio, the game will be broadcast locally on ESPN 980. Larry Michael handles the play-by-play with color commentary by Hall of Famers Sonny Jurgensen and Sam Huff. Rick "Doc" Walker serves as sideline reporter.
Last week, the Redskins improved to 2-1 with a 24-17 win over the Arizona Cardinals at FedExField.
Jason Campbell continued his steady play, completing 22-of-30 passes for 193 yards and two touchdowns. He threw a 17-yard touchdown pass to Santana Moss to provide the winning points in the fourth quarter. Carlos Rogers had a key interception to help set up the game-winning score.
The Dallas Cowboys defeated the Green Bay Packers last Sunday to improve to 3-0.
Quarterback Tony Romo was 17-of-30 for 260 yards with one touchdown and one interception. Jason Witten was his top target with seven catches for 67 yards, but Romo's big play came on a 67-yard touchdown strike to reserve wide receiver Miles Austin.
The Redskins have announced that Jason Taylor is out for this Sunday's game due to a calf injury.
The Cowboys have announced that left guard Kyle Kosier (foot injury), safety Roy Williams (arm) and fullback Deon Anderson (knee) are out for Sunday's game.
---
PROJECTED STARTING LINEUPS
OFFENSE
Pos.
Redskins
Cowboys
WR
89 Santana Moss
81 Terrell Owens
LT
60 Chris Samuels
76 Flozell Adams
LG
66 Pete Kendall
71 Cory Procter
C
61 Casey Rabach
65 Andre Gurode
RG
77 Randy Thomas
70 Leonard Davis
RT
74 Stephon Heyer
75 Marc Colombo
TE
47 Chris Cooley
82 Jason Witten
WR
82 Antwaan Randle El
84 Patrick Crayton
QB
17 Jason Campbell
9 Tony Romo
FB
45 Mike Sellers
89 Tony Curtis
RB
26 Clinton Portis
24 Marion Barber
DEFENSE
Pos.
Redskins
Cowboys
DE
99 Andre Carter
96 Marcus Spears
DT
96 Cornelius Griffin
90 Jay Ratliff
DT
64 Kedric Golston
99 Chris Canty
DE
92 Demetric Evans
98 Greg Ellis
SLB
53 Marcus Washington
56 Bradiie James
MLB
59 London Fletcher
55 Zach Thomas
WLB
52 Rocky McIntosh
94 DeMarcus Ware
LCB
24 Shawn Springs
41 Terence Newman
RCB
22 Carlos Rogers
42 Anthony Henry
SS
37 Reed Doughty
25 Patrick Watkins
FS
30 LaRon Landry
26 Ken Hamlin
SPECIAL TEAMS
Pos.
Redskins
Cowboys
P
14 Durant Brooks
1 Mat McBriar
K
6 Shaun Suisham
6 Nick Folk
H
14 Durant Brooks
14 Brad Johnson
LS
67 Ethan Albright
91 L.P. Ladouceur
KOR
31 Rock Cartwright
28 Felix Jones
PR
82 Antwaan Randle El
21 Adam Jones
---
Sunday's Redskins-Cowboys matchup marks the 97th time the two clubs have played since their storied rivalry began in 1960.
The two teams have played at least twice a year each regular season since 1961, with the exception of the strike-shortened 1982 season.
Dallas leads the all-time series 56-38-2, with victories in 16 of the last 21 games. The Redskins have won four of the last six contests, however.
On Dec. 30, 2007, the Redskins defeated the Cowboys 27-6 at FedExField to capture a Wild Card playoff berth.
The Cowboys had already wrapped up a first-round bye in the playoffs, so they rested many starters. It was still a remarkable showing by the Redskins.
Clinton Portis rushed for 104 yards and two touchdowns. Defensively, the Redskins' front seven dominated, limiting the Cowboys to just one rushing yard on 16 attempts.
Six weeks earlier, In Week 11, the Cowboys defeated the Redskins 28-23 at Texas Stadium as Tony Romo connected on four touchdown passes to Terrell Owens. The Redskins' fourth-quarter comeback was thwarted when Terence Newman intercepted Jason Campbell.
The Redskins and Cowboys also split two games in the 2006 season.
The first time the two clubs met was in 1960. The Cowboys were just three weeks old and has lost their first game. Dallas headed to Washington for its first-ever road contest and lost 26-14 in front of 21,142 fans.
The Redskins and Cowboys have clashed twice in the postseason, with Washington winning both meetings: 26-3 in the 1972 NFC Championship Game and 31-17 in the 1982 NFC Championship Game.
---
REDSKINS 2008 RANKINGS
Offense
Rank
Yards/Game
Total Offense
14
329.0
Rushing Offense
12
123.0
Passing Offense
15
206.0

Defense
Rank
Yards/Game
Total Defense
13
305.7
Rushing Defense
16
108.3
Passing Defense
15
196.3
COWBOYS 2008 RANKINGS
Offense
Rank
Yards/Game
Total Offense
1
440.0
Rushing Offense
9
150.7
Passing Offense
3
289.3

Defense
Rank
Yards/Game
Total Defense
9
292.0
Rushing Defense
6
84.3
Passing Defense
19
207.7
---
FAMILIAR FACES ON THE COWBOYS
Quarterback Brad Johnson played for the Redskins from 1999-2000. Johnson started 27 games in two seasons. In 1999, he passed for 4,005 yards, second-most in franchise history, and threw 24 touchdowns.
Midwest area scout Bill DeKraker was in the Redskins' scouting department from 1995-97.
---
REDSKINS-COWBOYS NEWS & NOTES
-- Highlights of the Rivalry
The Redskins-Cowboys rivalry is always a highlight of the NFL regular season. Here's a breakdown of the series:
-- 49 games have been decided by 10 points or more
-- 33 games have been decided by two or more touchdowns
-- 19 games have been decided by three or more touchdowns
-- 37 games have been decided by less than a touchdown
-- There have been two ties, a 28-28 game in 1961 and a 35-35 game in 1962
-- Dallas had a 10-game winning streak from 1997-2002
-- Biggest Redskins win was by 28 points in 2005
-- Biggest Redskins loss was by 35 points in 1993
-- The two clubs have played 14 Monday Night games, six Thanksgiving games, three Sunday night games, one Friday game and a Saturday game
-- The two clubs have played eight season openers and seven season finales.
-- First-Year Head Coaches
Jim Zorn is 2-1 in his first three games as head coach. He is aiming to lead the Redskins to their third winning season in the last four years.
Zorn is looking to become the seventh Redskins head coach to record a winning record in his first year at the helm.
The list of first-year head coaches with winning records includes Ray Flaherty (7-5 in 1936), Dutch Bergman (6-3-1 in 1943), Dudley DeGroot (6-3-1 in 1944), Dick Todd (5-4 in 1951), Vince Lombardi (7-5-2 in 1969) and George Allen (9-4-1 in 1971).
Seven first-year head coaches finished their rookie campaign with a .500 mark, while 12 finished with a losing record.
As an undrafted rookie quarterback in 1976, Jim Zorn got his NFL start with the Dallas Cowboys in 1975. He spent time in the Cowboys' training camp, playing behind future Hall of Fame quarterback Roger Staubach.
"I played in Texas Stadium a long, long time agoo," Zorn said. "I played in my first NFL [preseason] game there, against the Oakland Raiders."
Zorn was released by the Cowboys and eventually signed on with the Seattle Seahawks in 1976.
He started all 14 games with the Seahawks in 1976 and went on to play 11 seasons in the NFL.
Santana Moss's 17-yard touchdown catch from Jason Campbell in the fourth quarter against the Arizona Cardinals marked the sixth straight game in which he has caught a touchdown. The mark includes the Redskins' Wild Card playoff game at Seattle last season.
With the TD catch against the Saints, Moss tied Redskins great and Hall of Famer Bobby Mitchell for the franchise record with six straight games with a TD catch.
It's the second-longest streak of Moss's career, trailing the seven straight games he caught a touchdown pass in Weeks 5-11 of 2003.
Against Dallas, Moss has had some of the best games of his 8-year NFL career. In two games versus Dallas last year, Moss caught 17 passes for 236 yards and two touchdowns.
Overall, Moss has caught 33 passes for 602 yards--an 18.2 yards-per-catch clip--and four touchdowns in six games against the Cowboys.
Of course, Moss's best game versus Dallas came in 2005 when he caught two fourth-quarter touchdowns, including a 70-yarder from Mark Brunell, to help the Redskins come back and beat the Cowboys 14-13.
-- Winning the Turnover Battle
The Redskins lead the National Football League with a 5 turnover ratio. Washington has intercepted four passes and recovered two opponents fumbles, while the Redskins lone turnover on the season is a fumble on special teams.
Both of the Redskins' fumble recoveries on the year were on loose balls forced by Rocky McIntosh, who is tied with five others for the NFL lead in that category. The two fumbles were forced in the first quarter of Washington victories the last two weeks and resulted in field goals that extended Redskins leads.
McIntosh and Carlos Rogers are both returning from torn anterior cruciate ligaments injuries that ended their 2007 seasons. Against Arizona, Rogers recovered an Edgerrin James fumble caused by McIntosh, which set up a Shaun Suisham field goal.
In the second half, Rogers intercepted a Kurt Warner pass and returned it 42 yards to the Arizona 15-yard line to set up the Redskins' game-winning touchdown.
-- Campbell Off to a Strong Start
In three games this season, Jason Campbell has been solid. He has completed 61-of-93 passes--a 65.6 completion percentage--for 647 yards, four touchdowns and no interceptions. His QB rating is 100.1.
Campbell is one of five quarterbacks to rank in the top 10 in the NFL in pass completions, touchdowns and passer rating.
Campbell currently stands ninth in the league in passer rating at 100.1 and is one of just three NFL starting quarterbacks who have yet to throw an interception. His last interception was in the third quarter vs. Buffalo on Dec. 2, 2007, a span of 115 passes without one.
The Redskins as a team have not thrown a regular season interception in the last 220 attempts.
Campbell ranks second in the NFC and fourth in the NFL in fourth-quarter passer rating.
Three Redskins players got their start in Dallas before finding a home in Washington.
Khary Campbell originally signed with Dallas as an undrafted rookie free agent in 2002. He spent time on the Cowboys' practice squad, eventually landing in Washington in 2004.
Demetric Evans played the 2001-02 seasons with the Cowboys. In 2001, he logged 35 tackles, one sack and one forced fumble in 16 games played. He joined the Redskins as a free agent prior to the 2004 season.
Shaun Suisham played parts of two seasons with Dallas in 2005-06. He played in six games, replacing injured Mike Vanderjagt, and connected on 4-of-6 field goals. He signed with Washington in December 2006.
-- Cooley And the Cowboys
Chris Cooley is emerging as a player to be reckoned with when the Redskins take on the Dallas Cowboys.
In eight games against the Cowboys, Cooley has caught 30 passes for 363 yards and five touchdowns.
Chris Cooley has caught a pass in 59 straight regular season contests, dating back to Week 9 of the 2004 season.
For his career, Cooley has 244 receptions. He needs one more catch to pass Don Warren for second place on the Redskins' career receptions list for tight ends.
The Redskins have scored six touchdowns in 10 trips inside the opponents' 20-yard line, for a 60 percent conversion rate, which is tied for third in the NFC.
Campbell ranks second in the NFC and fourth in the NFL in fourth-quarter passer rating.
Jason Taylor's consecutive games streak comes to an end this Sunday in the Redskins-Cowboys game. Taylor is sidelined with a calf injury. He started 133 consecutive games, including three with the Redskins, before suffering the injury. The streak was the seventh longest in the NFL.
Taylor is the brother-in-law of Cowboys linebacker Zach Thomas. They both played together in Miami before joining new teams last offseason. They both wear jersey No. 55.
Dallas Cowboys running backs coach Skip Peete is the brother of Rodney Peete, who played with the Cowboys in 1994 and the Redskins in 1999.
The Redskins and Cowboys are the only teams in the NFL with a player ranked in the top 10 in passer rating, rushing yards and receiving yards.
Clinton Portis has led the Redskins' ground game in 2008 with 65 rushes for 248 yards and three touchdowns. Coming out of the backfield, Portis has four catches for 22 yards.
Portis ranks 10th in the NFL in rushing yards, seventh in the league in rushing touchdowns and third in the NFL in attempts.
Portis has accounted for 15 first downs on the year, which ranks seventh in the NFC and ninth in the NFL.
-- From Texas to the Redskins
The Redskins have two players on the 53-man roster who hail from the state of Texas: Rock Cartwright is from Conroe, Tex., a suburb of Houston, and rookie Malcolm Kelly is from Longview, Tex., which as about an hour east of Dallas.
In addition, rookie cornerback Matteral Richardson, on the Redskins' practice squad, grew up in Marlin, Tex., near Waco.
Redskins secondary coach Jerry Gray is from Lubbock, Tex.
-- Cowboys Against the Redskins
In nine career games vs. Washington, Terence Newman has nine pass deflections and six interceptions.
DeMarcus Ware has 30 tackles and four sacks in five games against the Redskins.
Jason Witten has 36 catches for 334 yards and two touchdowns in 10 games against the Redskins.
Terrell Owens has caught 36 passes for 479 yards and seven touchdowns in nine games against the Redskins.
Marion Barber has 117 rushing yards and a touchdown in five games vs. Washington.
And in three games against the Redskins, Tony Romo has completed 53-of-84 for 663 yards with six touchdowns and two interceptions.
Washington has been the NFC's best team on kickoffs as the Redskins' average starting field position of the 30.5-yard line is tops in the conference.
Their opponents' average starting position is the 22.6-yard line, which is second-lowest in the NFC.
Kick returner Rock Cartwright ranks fifth in the NFC and ninth in the NFL with a 25.8-yard average.
The Redskins have elected six players as captains for the 2008 season. They wear a black "C" on their jersey during games.
On offense, Jason Campbell amd Chris Samuels are the captains.
On defense, Cornelius Griffin and London Fletcher are the captains.
On special teams, Rock Cartwright and Khary Campbell are the captains.
The Redskins stay in the NFC East as they travel to Philadelphia to take on the Eagles at Lincoln Financial Field.
It's the first of two games against the Eagles this year.
The Redskins split with the Eagles last year, winning 20-12 at Lincoln Financial Field and losing 33-25 at FedExField.