Gameday Graphic for Game on 11/15/2009


The Redskins return to FedExField on Sunday, Nov. 15 to take on the Denver Broncos. Kickoff is 1 p.m. ET.
FedExField is a natural grass surface. The stadium seats 91,704.
It is the second of four games the Redskins will play against the AFC West this season. In Week 6, the Redskins lost to the Kansas City Chiefs 14-6 at FedExField.
The Redskins are 2-2 at FedExField this season. They beat the St. Louis Rams 9-7 in Week 2 and the Tampa Bay Buccaneers 16-13 in Week 4 but lost to the Chiefs and the Philadelphia Eagles 27-17 in Week 7.
The Broncos play the Pittsburgh Steelers on Monday Night Football. They are 1-0 against the NFC East this season, having beaten the Dallas Cowboys 17-10 in Week 4.
The Redskins-Bronco game will be televised to a regional audience on CBS. Greg Gumbel calls the play-by-play and Dan Dierdorf provides color commentary.
On radio, the game will be broadcast locally on the Redskins Radio Network. Larry Michael calls the play-by-play with former Redskins and Hall of Famers Sonny Jurgensen and Sam Huff adding color commentary. Former Redskin Rick 'Doc' Walker reports from the sidelines.
Jorge Andres and Mario Alfaro call the game in Spanish on ESPN Deportes 730, with Cristina Cruz reporting from the sidelines.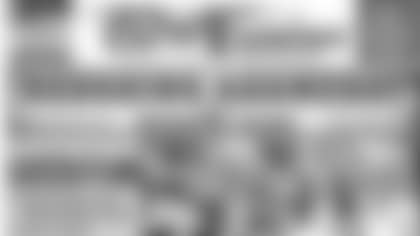 ---
PROJECTED STARTING LINEUPS
Official Redskins-Broncos FlipCard (PDF)
OFFENSE
Pos.
Redskins
Broncos
WR
89 Santana Moss
19 Eddie Royal
LT
74 Stephon Heyer
78 Ryan Clady
LG
66 Derrick Dockery
50 Ben Hamilton
C
61 Casey Rabach
62 Casey Weigmann
RG
75 Chad Rinehart
73 Chris Kuper
RT
71 Mike Williams
74 Ryan Harris
TE
86 Fred Davis
89 Daniel Graham
WR
11 Devin Thomas
15 Brandon Marshall
QB
17 Jason Campbell
8 Kyle Orton
FB
45 Mike Sellers
22 Peyton Hillis
RB
26 Clinton Portis
28 Correll Buckhalter
DEFENSE
Pos.
Redskins
Broncos
DE
99 Andre Carter
98 Ryan McBean
DT
96 Cornelius Griffin
91 Ronald Fields
DT
92 A. Haynesworth
90 Kenny Peterson
DE/LB
93 Phillip Daniels
92 Elvis Dumervil
LB
98 Brian Orakpo
55 D.J. Williams
LB
59 London Fletcher
54 Andra Davis
LB
52 Rocky McIntosh
57 Mario Haggan
LCB
23 DeAngelo Hall
24 Champ Bailey
RCB
22 Carlos Rogers
21 Andre Goodman
SS
37 Reed Doughty
23 Renaldo Hill
FS
30 LaRon Landry
20 Brian Dawkins
SPECIAL TEAMS
Pos.
Redskins
Broncos
P
3 Hunter Smith
17 Mitch Berger
K
6 Shaun Suisham
5 Matt Prater
H
3 Hunter Smith
17 Mitch Berger
LS
67 Ethan Albright
66 Lonie Paxton
KOR
31 Rock Cartwright
19 Eddie Royal
PR
82 A. Randle El
19 Eddie Royal
---
Washington and Denver have played 11 times, with the Broncos leading the all-time series by a 6-5 count.
The Broncos have won three of the last four meetings.
The two clubs last played on Oct. 9, 2005 when the Broncos defeated the Redskins 21-19 at Invesco Field at Mile High.
Mark Brunell nearly guided the Redskins to a stunning comeback when he tossed an 11-yard touchdown pass to Chris Cooley in the final minutes. On his 2-point conversion attempt, David Patten was wide open in the back of the end zone but linebacker Ian Gold tipped away Brunell's throw.
In his return to Denver, Clinton Portis rushed for 103 yards on 20 carries and Mike Sellers added a 2-yard touchdown grab. But the Broncos forged ahead on a 55-yard touchdown run by Tatum Bell.
The Broncos have visited FedExField only once before, in 1998, and won 38-16.
Of course, the Redskins won the only postseason matchup between the franchises. The two clubs squared off in Super Bowl XXII following the 1987 season and Doug Williams led the Redskins to a 42-10 win over the Broncos.
---
REDSKINS 2009 RANKINGS
Offense
Rank
Yards/Game
Total Offense
24
298.0
Rushing Offense
23
98.8
Passing Offense
20
199.3
Defense
Rank
Yards/Game
Total Defense
6
286.3
Rushing Defense
25
126.4
Passing Defense
1
159.9
 </tbody>

BRONCOS 2009 RANKINGS
Offense
Rank
Yards/Game
Total Offense
19
331.1
Rushing Offense
18
111.1
Passing Offense
17
220.6
Defense
Rank
Yards/Game
Total Defense
3
280.3
Rushing Defense
8
97.0
Passing Defense
7
183.3
---
FAMILIAR FACES ON THE BRONCOS
Defensive coordinator Mike Nolan served as defensive coordinator with the Redskins from 1997-99.
Cornerback Champ Bailey played for the Redskins from 1999-2003. Bailey was Washington's first-round draft choice (seventh overall) in the 1999 NFL Draft. He would earn four Pro Bowl berths with the Redskins from 2000-03.
Wide receiver Brandon Lloyd played for the Redskins from 2006-07.
---
REDSKINS-BRONCOS NEWS & NOTES
-- Portis And the Broncos
Clinton Portis suffered a concussion in last week's game against the Atlanta Falcons and his status is "doubtful" for Sunday's game against Denver, Jim Zorn said.
Portis, who played his first two NFL seasons with the Broncos, had 9,696 career rushing yards through Week 9 this season.
This season, Portis has surpassed former Redskins teammate Shaun Alexander, Hall of Famer Earl Campbell, the bruising Houston Oilers running back from the 1970s, to move into 26th place on the NFL all-time rushing list.
"I think it's a great accomplishment," Portis said.
Among active players, Portis is fifth in career rushing yards behind Edgerrin James, LaDainian Tomlinson, Fred Taylor and Jamal Lewis.
As a Redskin, Portis has totaled 6,597 rushing yards through Week 9 this season. John Riggins, a Hall of Famer, is the franchise leader with 7,472 rushing yards.
Portis has already established a Redskins franchise record for most 100-yard rushing games in Redskins history. He has 26 100-yard rushing games as a Redskin, surpassing the previous mark of 19 held by Riggins and Larry Brown.
Portis has often been asked to compare himself to his heady days in Denver from 2002-03 to the franchise running back he has become in Washington.
Back then, Portis was a sparkplug for a multi-faceted Broncos offense. He had back-to-back 1,500-yard rushing seasons, compiling 3,099 yards and 29 touchdowns in two seasons in Denver.
The Broncos opted to trade Portis to Washington--in exchange for Pro Bowl cornerback Champ Bailey and a second-round draft pick--in March 2004 after the team declined to negotiate a new contract.
In Washington, Portis's role has had more significance than in Denver.
"I think I have changed for the better, and that's to do what is asked of me," he said. "I think I have changed into the leadership role of carrying the team and putting the team on my shoulders.
"When I was in Denver, I didn't carry the organization. That organization had great names and great people. Shannon Sharpe and Rod Smith and Eddie McCaffery and Brian Griese--all of those guys were the focal point at that time.
"Now I've come here and helped carry an organization as the focal point, helped mold young guys and keep my teammates involved."
-- Bailey Returns to Washington
Champ Bailey was a high profile first-round draft pick (7th overall) in the 2009 NFL Draft. He played for the Redskins from 1999-2003 and earned four Pro Bowl berths in that span.
Unwilling to re-sign with the Redskins following the 2003 season, Bailey was traded to the Broncos for Clinton Portis.
In a 2005 interview, Bailey was asked if he would have been happy to play in Washington in 2004 and beyond.
"I don't know," Bailey said. "I always make the best of my situation. I'm never going to look at a situation negatively...As long as we're winning, I'm happy. I just don't like to lose. And we were losing when I was [in Washington]."
For his career, Bailey has logged 592 tackles, 44 interceptions, two sacks and six forced fumbles.
This season, Bailey has 45 tackles, one interception and one forced fumble.
Bailey was injured and did not play in a 2005 matchup between the two franchises. He plays against the Redskins--makes his return to FedExField--for the first time since the trade.
-- Local Products Make Good In Colorado
Two of Denver's offensive players hail from the Washington, D.C., region and went to college in the area as well.
Eddie Royal grew up in Chantilly, Va., and attended Virginia Tech.
As a rookie with the Broncos last year, Royal posted 91 catches for 980 yards and five touchdowns. He has 25 catches for 232 yards this season.
LaMont Jordan grew up in Forestville, Md., and starred at Maryland.
In nine NFL season, Jordan has logged 3,707 rushing yards and 28 touchdowns. He also has 158 career catches for 1,301 yards and three TDs.
Jordan sees limited action with the Broncos. He has 20 carries for 59 yards this season.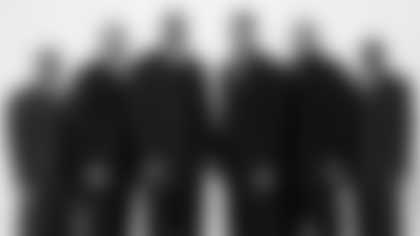 -- Redskins Team Captains
The Redskins have elected captains for the offense, defense and special teams.
For the offense, it's quarterback Jason Campbell and left tackle Chris Samuels.
For the defense, it's defensive tackle Cornelius Griffin and linebacker London Fletcher.
For special teams, it's running back Rock Cartwright and fullback Mike Sellers.
Sellers is the newcomer of the captains this year. The other five were also voted team captains in 2008.
London Fletcher and Denver Broncos head coach Josh McDaniels were teammates at John Carroll University from 1995-97.
McDaniels was initially recruited to John Carroll (in University Heights, Ohio) as a quarterback, but he spent the the majority of his college playing career as a wide receiver.
Fletcher and McDaniel graduated from the same college that produced legendary head coach Don Shula (class of 1951).
Fletcher, meantime, has played in 184 consecutive contests, tied for second-most in the NFL with Tampa Bay's Ronde Barber and Indianapolis's Peyton Manning.
With two sacks last Sunday, Brian Orakpo has 5.5 sacks on the season, all coming in the last six games.
Orakpo leads all NFL rookies in sacks and is just one shy of breaking the Redskins rookie record of six held by Dean Hamel (1985) and Andre Collins (1990).
Since 2007, Gaines Adams is the only rookie to have more than Orakpo's current 5.5 sacks. Adams had six sacks in 2007.
Orakpo was the Redskins' first-round draft pick (13th overall) in the 2009 NFL Draft. He played college football at Texas.
Washington's strength of schedule for 2009 was ranked 16th in the NFL at .492. Their opponents' 2008 cumulative record was 125-129-2.
The Redskins play a total of seven games against 2008 playoff teams, with four of those games against NFC East foes Philadelphia and New York.
The Miami Dolphins have the NFL's toughest schedule at .594. Their opponents' 2008 cumulative record was 152-104.
The Chicago Bears have the NFL's easiest schedule at .414. Their opponents' 2008 cumulative record was 105-149-2.
-- QB Rating vs. Redskins
In the Nov. 8 loss to Atlanta, the Redskins' defense continued its NFL-best streak of not allowing an opposing quarterback to reach a QB rating of 100 or more.
By holding Matt Ryan to a 81.1 QB rating, the defense improved its streak to 30 games. (The stat is based on a minimum of 20 pass attempts.)
Dallas Cowboys quarterback Tony Romo was the last QB to post a 100 passer rating against the Redskins. He accomplished it on Nov. 18, 2007, in a 28-23 win over the Redskins at Texas Stadium.
FedExField is the largest stadium in the NFL with 91,704 seats.
It is more than 11,000 seats ahead of the second biggest stadium, the new Cowboys Stadium. (Cowboys Stadium is expandabe with standing room only to about 110,000.)
The Redskins set a franchise single-game attendance record--90,910--in a Dec. 30, 2007 game against the Cowboys.
The Redskins go on a two-game road trip to NFC East clubs when they travel to Dallas to take on the Cowboys on Nov. 22.
It's the Redskins' first game in Cowboys Stadium, Dallas's new facility. Kickoff is 1 p.m. ET.
The Redskins are 0-2 in the NFC East this season. They follow the Dallas game up with a trip to Philadelphia to play the Eagles on Nov. 29.