Despite the weeks of practice, preparation, and countless #Tour62 Group texts leading up to takeoff, nothing would truly prepare me for the reality and impact that the Military appreciation Tour at Soto Cano Air Force Base in Honduras would leave. I heard that military tours were a definite highlight to the 1st Ladies of Football season, so there was a healthy mix of excitement, nerves, and anticipation that consumed my days until I finally found myself standing at Ronald Reagan Airport at our 3AM call time, ready to experience my very first tour.
After a rather bumpy landing in Toncontin International Airport in Tegucigalpa (Fun Fact: It is known to be one of the most dangerous airports in the world due to its short runway and surrounding mountainous terrain!) we soon found ourselves driving onto Soto Cano AB where 75+ degree weather, palm trees, and excited servicemen and women awaited us, ready to tell us their stories and show us a small piece of what they currently called home.
Day 1: Medical and Police Element, K9s, & the WRC Tour Show
After settling in the day before and given a general tour of the Base via 'golf carts' driven by our "Ambassadors" –each representing a different squadron or specialty on base— and an efficient practice, I soon realized that Day 1's itinerary did not fall short of busy.
Our first stop was at the JTF-B Medical Element where a wooden sign beside the building read "First to Save, Fit to Fight". We were given a tour that showed off the surgical unit, physical therapy clinic, laboratories, dental clinic, supply and medical records room, etc.—essentially what seemed to be a consolidated hospital which supported and covered the needs of those who served in all countries in Central America. I was amazed at the different protocols they had when it came to supporting missions that needed medical care and learned that the small symbol on their uniforms signified one's rank, generally attained through years of service or experience in their given field.
Our next stop was the base "police station" where we were able to step inside a Humvee –so cool!—and learned that the station consisted of a joint effort between the US Army and local Honduran task force. Our final stop was the K-9 Unit where we met MWD Greco, Laura, Carlos, and Tye who are working dogs that specialize in narcotics and explosives detection and are responsible for knowing a variety of commands, including "Bite". Witnessing this and the accuracy of a narcotics detection demo reminded me of not only the sacrifice our men and women make to protect our country, but also the furry (yet fierce) friends that accompany them.
The evening agenda consisted of what we came to do…show time! After driving past our stage throughout the day—set up with strobe lights, a smoke machine, and plenty of room for our kick lines—to say I was ready to perform is an understatement; I was amped! Turns out, it was even better than I expected, and by the time we were performing our last number, Proud (God Bless the USA), my heart was full seeing men and women swaying and singing along as we closed out the show in our red, white, and blue uniforms.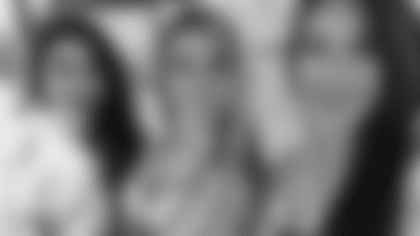 Day 2: The Air Tower, Blackhawks & Chinooks, and Super Bowl Sunday
Our second day was equally hectic and filled with a different sort of excitement; it was Super Bowl Sunday! We started the morning off touring the Air Tower where we climbed a generous set of stairs and got a bird's eye view of the base and landing strip where a few Blackhawks and Chinooks sat, waiting to take off for a mission later in the morning. Next, we were given a tour inside a Blackhawk and Chinook and were told about the equipment necessary (which weighed up to 40 lbs.) and the preparation it took to ensure a successful takeoff. The last official stop was the Base's Firehouse where we were first given a tour of their living accommodations. After, not only were we able to try on a firefighter suit, ride a fire truck, and take turns spraying the (heavy) fire hose, but we also met Stryker, a lovable black lab who is the Firehouse's traditional mascot.
The focus of the rest of the day's agenda was the much-anticipated Super Bowl where the New England Patriots would fight for another Title, this time against the LA Rams. After a quick WRC "pregame" performance and palpable silence as the National Anthem was sung, it was time for kickoff; TVs were set up inside and outside the Luau-themed viewing party where servicemen and women gathered with a variety of jerseys/shirts representing their hometowns. It was a comingling of all branches, and you wouldn't be able to tell who was in the Marines, Army, or a part of the Aviation team let alone a person's rank or stature. If I closed my eyes, I'd almost forget that I was on a Military Base in Honduras and felt like I was back home enjoying the game and singing amongst friends as Adam Levine and Maroon 5 brought back nostalgia during halftime.
It's difficult to narrow down my favorite moments of my first Tour. There is so much that I learned and experienced that is starkly different than my 'day-to-day' that it's hard to summarize in a simple blog post. However, intermittent in the base tours and overall weekend itinerary were the meals held in the dining facility (DFAC). This is where I learned about the ins&outs and pros&cons of daily life on base and heard the servicemen/women's stories—their favorite base, their favorite culture they've experienced, their reasons for deciding to serve, their families back home, convenient travel tips abroad that only a unique 'perk' to serving our country could allow when stationed in so many places (thanks Dom and Austin!), and so much more.
Overall, I am overwhelmed with gratitude over the sacrifice that these brave men and women make every day to ensure the safety of our country, and could not thank them enough for their service. A special thank you also goes to Armed Forces Entertainment and #GeicoMilitary for partnering with WRC and making these Tours a reality by allowing us to bring our troops a piece of home. Last, I am infinitely grateful to Stephanie and Jamilla, our director and asst. director, who chose & gave me the privilege of embarking on this journey that I will never forget. The First Ladies of #Tour62 and Soto Cano Airbase will always hold a special place in my heart.