The Washington Commanders have wrapped up Week 1 of training camp. Here are three of the biggest standouts from the first four days.
The Commanders wide receiver corps is one of the most talented positions on team, and while Terry McLaurin and Jahan Dotson had their moments, it was Dyami Brown who stood out the most.
Brown, a third-round pick from 2021, is clearly the fourth wideout in the rotation, but the former Tar Heel has a slight advantage over the rest of his teammates: an established relationship with quarterback Sam Howell. The two worked together to break several offensive records at North Carolina, and their chemistry with each other has been apparent throughout camp.
One of his best moments came on Day 2 of camp working against Tariq Castro-Fields during 11-on-11 drills. Jacoby Brissett lofted up a pass to Brown, who leaped over Castro-Fields and came down with the reception near the 10-yard line. The following day, Brown connected with Howell on a deep shot in 7-on-7 drills, running out of bounds near the end zone.
"One of the things that he was noted for coming out of North Carolina was he was known for the ability to catch the ball in traffic," said coach Ron Rivera. "He led the NCAA in contested catches. He was also one of the top guys in the deep balls thrown as well. So, we're expecting and anticipating to get that from Dyami."
It's a big season for Brown to show what his role could be in Washington's offense. He'll need to build on that production going forward.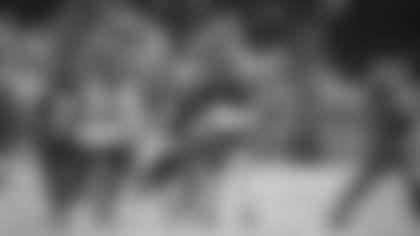 Emmanuel Forbes was thrown into the starting lineup as a perimeter corner on the first practice of camp, and while there have been some growing pains, particularly whenever he matches up against McLaurin, the rookie has fit right in with the rest of the defense.
Forbes played exactly how Rivera and the coaches expected him to when they drafted him. He has "tremendous" study habits, Rivera said, and he uses his length to recover and bat away passes. That happened on the first day of camp, as he used his 6-foot frame to make up ground against Byron Pringle and recorded a PBU.
"I think realistic expectations are for him or at every opportunity he gets is to play and play well," Rivera said. "He's a young man that works hard. He's a very smart, diligent young man when it comes to learning and trying to learn."
Forbes came close on several plays to grabbing interceptions, and he finally got one on Day 4 by jumping a route working against McLaurin. Forbes was brought in to help the Commanders create more turnovers, which was a problem for the team in 2022. Rivera thinks it would be unfair to put a number on how many he gets, but the head coach does have high hopes for what he can accomplish.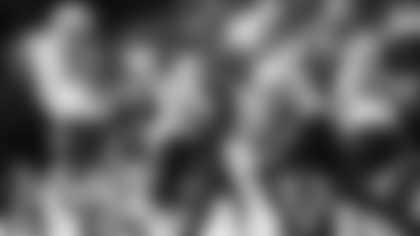 Although the number of running plays increased in Days 3 and 4, most of the Commanders' script was focused on the passing game. That is an area of Brian Robinson's skill set that he wants to show more of in 2023, and the second-year back did a solid job of proving he is more than a power back.
"I can do anything in the offensive playbook," Robinson said. "Like I said, no limits on what I can do."
Howell has often looked Robinson's way during 11-on-11 and 7-on-7 drills, and the running back has rewarded that faith by catching just about every pass that came his way. He had a one-handed grab during the first practice, which was arguably the catch of the day.
Robinson got to show some of his ability in the running game, but he wants to show that he can be just as effective as a pass-catcher. Robinson said he "never" felt like himself after being shot twice before the start of the season, so he's looking forward to being fully healthy for the 2023 season.
"He's still growing, and he's still got a ways to go but there's a lot of promise," Rivera said. "There's a lot of excitement right now."