There were four A+'s, two A's and five A-'s -- with just one B+ and B mixed in. With a cumulative 3.85 GPA, the Redskins were the NFL's valedictorian for the event.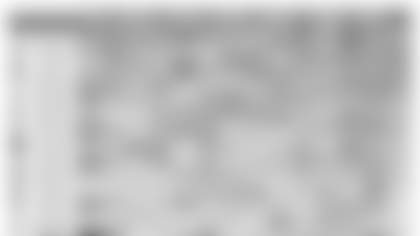 One of the biggest contributors to the Redskins' perceived draft mastery was Director of College Scouting Kyle Smith, a 34-year-old former college wide receiver who's been running the franchise's college scouting department the past three seasons.
The Redskins graded well in each draft during this stretch, and they've already reaped the on-field benefits of these selections. First-round defensive linemen Jonathan Allen and Daron Payne are already starters, while others -- such as safety Montae Nicholson, running back Derrius Guice, linebacker Shaun Dion Hamilton and wide receiver Trey Quinn -- have shown glimpses of NFL promise.
The Redskins hope the 2019 draft class can follow suit.
"It feels good," Smith said about the team's draft grades during "Redskins Nation" on Tuesday. "You want fans and outsiders to be excited about what we've put together. ...We're not going to know for two to three years how these kids come out and how they produce, but we had a plan, we had a philosophy, we executed that plan, we let the board speak to us and we feel we got better as Redskins."
Smith then went on to breakdown the 10 draft picks individually -- shedding light on the organization's thought process on drafting each prospect and how he sees them fitting in with their new franchise.
Quarterback Dwayne Haskins (Round 1)
Smith said adding a quarterback was a priority entering the NFL Draft, and the Redskins got their No. 1 guy.
With the 15th-overall pick, Washington selected an "extremely talented quarterback" in Ohio State's Dwayne Haskins, who showcased his potential with a record-breaking 2018 campaign. "He can be as good as he wants to be," Smith said.
Smith added the organization is excited for Haskins to learn from a trio of veterans -- Case Keenum, Colt McCoy and Alex Smith -- and a litany of former quarterbacks on the coaching staff. Quarterbacks coach Tim Rattay, offensive coordinator Kevin O'Connell, senior offensive assistant Matt Cavanaugh and Jay Gruden all played the position at the highest level.
"The college game is different than the NFL game," Smith said. "What we have to do is break down and get inside of his mind and let him understand the west coast offense, understanding defenses, coverages, all those things that are so much different than the college game, so he's going to have a chance to do that."
EDGE Montez Sweat (Round 1)
When asked if first-rounder Montez Sweat will contribute right away, Smith had a quick response.
"There's no doubt about it."
Just look at the measureables, Smith said. Sweat is 6-foot-6, ran a 4.41-second 40-yard dash and has 35-inch arms. He's an overwhelming physical presence with the college production to match, earning first-team All-America honors at Mississippi State last season.
"What he can work on is...technique and nuances of the position, but he'll develop that as we go," Smith said.
The Redskins were able to draft Haskins at No. 15 and then still get Sweat courtesy of a trade with the Indianapolis Colts, where they gave up a second-round selection and a second-rounder in 2020 for the 26th-overall selection. But make no mistake: the organization valued Sweat higher than that.
"This kid is a guy we would have felt comfortable taking at 15," Smith said. "He's that type of player, he's that type of pass rusher."
Wide Receiver Terry McLaurin (Round 3)
Smith called Redskins third-round pick Terry McLaurin a "swiss army knife" when it comes to his versatility at wide receiver.
"He has a skill set to fit into each position at wideout," Smith said of McLaurin, who improved his statistics in each of his final three years at Ohio State. "At 'X', the guy can roll. He ran a [4.3-second 40-yard dash]. He can take the top off the coverage. As a slot receiver, he's got route ability, he's got toughness and instincts. As a 'Z' he is a point of attack guy because he blocks his butt off."
But that's not all McLaurin will bring to Washington, Smith said. He's a proven leader, and his special teams value is "off the charts."
"He'll come in, and like all rookies they'll feel it out a little bit and we have good veteran leadership here to begin with," Smith said. "But he is a guy that we expect to come in and be a big part of this locker room from a leadership perspective."
Running Back Bryce Love (Round 4)
Smith said drafting running back Bryce Love largely centered around him being one of the best-available prospects when the Redskins were on the clock in the fourth round. And while Love joins a crowded backfield with a veteran legend (Adrian Peterson), a 2018 second-round pick (Derrius Guice) and a proven pass-catcher (Chris Thompson), the Redskins believe he's talented enough to contribute if and when he's called upon.
"You know obviously what we've been through as a team the last couple years with injuries, you never know who's going to go down, so you're always just trying to take good football players," Smith said. "Had [Love] come out last year, he would have been right in the mix of the first couple of rounds with the deep group that came out last year running back-wise."
Smith gushed about Love's 2017 season, when he ran for over 2,000 yards, had 8.1 yards per carry and scored 19 touchdowns en route to finishing as the Heisman Trophy runner-up.
Love then suffered an "unfortunate injury," when he tore his ACL in the final game of his career, but the Redskins did not disregard him because of it.
"He's beyond schedule," Smith said of Love's recovery process. "Coming back, we're going to take it slow with him. But at that position, fourth-round, it was the guy was graded so high. We have to be patient with him."
Offensive linemen Wes Martin (Round 4) and Ross Pierschbacher (Round 5)
With back-to-back picks in the middle rounds Saturday, the Redskins added two versatile, experienced offensive linemen Smith believes can compete for a starting job right away.
Indiana guard Wes Martin is a four-year starter with unique strength, Smith noted, while Alabama center/left guard Ross Pierschbacher brings unparalleled durability and consistency. His 57 career starts are the most among position players in Crimson Tide history.
"These kids have great eyes, instincts, awareness for games and stunts and all of those things," Smith said. "They're very smart players."
Linebacker Cole Holcomb (Round 5)
When describing Holcomb, a former walk-on turned All-ACC performer, Smith sees a "self-made" player whose abilities extend beyond his 300-plus tackles in four seasons at North Carolina. Holcomb is athletic and instinctive. He can cover and play in space.
These are necessary linebacker traits in today's NFL and ones he'll further develop moving forward.
"The game now in the NFL is changing to where being able to cover and play in space is extremely important," Smith said. "And on top of that having the position flex to play 'Mike' and 'Mo' for us and make the calls for us. He is a smart kid."
Wide Receiver Kelvin Harmon (Round 6)
Smith seemed just as surprised as the general public that N.C. State wide receiver Kelvin Harmon fell all the way to the sixth round of the NFL Draft on Saturday.
The Redskins contemplated taking Harmon in the fourth round before selecting Indiana guard Wes Brown. Harmon's name came up ahead of the team's fifth-round pick, too, but the franchise opted to take Alabama guard Ross Pierschbacher.
"Of the guys names being drafted, you know Kelvin's name came up more than anyone that we drafted because that third day, its fifth-round, sixth-round, it's all of our picks that were sitting there and we were just like, 'Let's take Kelvin here,'" Smith said. " But that was just one of those deals where you let the board speak to you and you have depth at different positions."
The Redskins finally pulled the trigger on Harmon in the sixth-round, locking up a two-time All-ACC wideout that "checks all the boxes," said Smith, who highlighted Harmon's physicality, character and pass-catching prowess.
"He's definitely a contested ball catcher,," Smith said. "He didn't run real well, but he's just one of those guys that's got great tempo, what we call great play tempo, where it may say 4.6 [seconds] on that card, but he's playing the 4.57 - 4.55 consistently out of his routes."
Defensive Back Jimmy Moreland (Round 7)
What Jimmy Moreland may lack in size, Smith said, he makes up for with competitiveness, reaction time and balls skills, all of which were on full display during his career at James Madison.
Smith pointed out Moreland's 18 career interceptions, 13 of which came in the past two seasons and six of which were returned for touchdowns. Smith also said Moreland has "inside-out versatility," which means he'll be able to play both nickelback and outside corner in Washington.
"He's an outstanding athlete, quick-twitch guy, small-school guy who went to the East-West Shrine game, All-Star game and showed out there. It wasn't too big for him," Smith said. "Small-school guys, that's what you want to see, you want to see how they perform against the big dogs, and he fits right in and he's not backing down from anybody. Then he gets invited to the Senior Bowl and same thing: he shows up there, he's making plays."
EDGE Jordan Brailford (Round 7)
In Brailford, Smith said the Redskins saw an edge defender with "pretty good" size at 6-foot-3 and 252 pounds and solid collegiate production. He emerged as a consistent pass rusher in three seasons at Oklahoma State and was at his best in 2018, when he led the Big 12 with 10 sacks.
"As a pass rusher you want guys with get-off, a motor, toughness, and he's got those, he's got those things," Smith said. "Just lacks a little bit of length but you know in the seventh round we were excited about Jordan man."