Three days and 10 picks later, the Washington Redskins finally have their 2019 draft class.
It's a group that includes one of the top quarterback prospects in Dwayne Haskins, who the Redskins selected 15th overall, and a freakish athlete in edge defender Montez Sweat, who the organization liked so much that they traded back into the first round to take him at No. 26. The Redskins also addressed their need at wide receiver, taking third-rounder Terry McLaurin and sixth-rounder Kelvin Harmon, while drafting a pair of offensive lineman in the middle rounds. They'll come in and compete right away with newly-signed Ereck Flowers for the starting job at left guard.
Overall, the Redskins added six offensive players and four defenders. You can check out all of the team's draft picks, here.
As for the quality of these selections, well, the Redskins seemed to have done quite well for themselves. Here's a look at how several pundits graded the team's draft performance: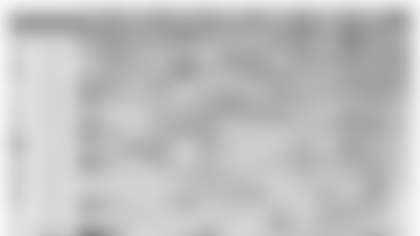 Draft analysis: "The Redskins wanted Dwayne Haskins all along, and they didn't have to trade up to get their quarterback of the future. The Maryland native will come into his rookie season with a huge chip on his shoulder after not being selected by the New York Giants with the No. 6 pick. Haskins threw 50 touchdown passes for the Ohio State Buckeyes last season and has a powerful arm with touch. If Montez Sweat is healthy, the Redskins will have a game-changing pass-rusher.Best Day 3 selection: Running back Bryce Love of Stanford has the burst to get to the corner and hit the seam at full speed. While injuries have dogged him, he is a talented player who should fill a key need for the Redskins."
Draft analysis: "Alex Smith's leg injury last fall was extremely unfortunate. You have probably forgotten that the Redskins were 6-4 with a healthy Smith, then went 1-5 after he got hurt. They easily could have won the NFC East, and the entire theme of the offseason would have changed. This team has talent. Now, Washington has an onerous contract for Smith on its books, and it's unclear when -- if ever -- he'll play again. That means quarterback was the priority for this team.
Once the Redskins opted to trade for veteran Case Keenum as a stopgap option, we knew the first round as a possibility for owner Daniel Snyder and GM Bruce Allen to target a quarterback. So it's funny that all of the talk was about trading up ... and Dwayne Haskins fell right into their laps at No. 15. As I wrote on Thursday night, I love the fit here. Haskins has a chip in his shoulder, and he's a gamer. He never wilted under pressure for the Buckeyes, and he was at his best in the biggest games. I'm excited to see what coach Jay Gruden and new offensive coordinator Kevin O'Connell can do with him.
The Redskins then traded back into Round 1, surrendering the No. 46 pick and a second-round pick in next year's draft to move up to No. 26 for pass-rusher Montez Sweat, who was ranked No. 12 overall on my board. Yes, that's a lot to give up, but I really like Sweat, who could have been a top-10 pick if not for a heart condition that caused him to drop. I spoke to people from teams that had removed him entirely from their draft boards, and I spoke to other team representatives who had him in the top 10.
After that, Washington focused on depth, and there were some names that popped for me. Terry McLaurin (No. 76) is a speed demon who I thought could go early in the second round. And he already has experience with his Buckeyes teammate Haskins. You probably know about Bryce Love's Heisman runner-up 2018 season, but he had a down 2018 due to injuries and tore his ACL in December. This could be a redshirt year. Still, to get him at No. 112 is decent. Guard Ross Pierschbacher (No. 153) and linebacker Cole Holcomb are solid fifth-round guys who will make the team. Jimmy Moreland (No. 227) has some physical tools to work with, though he's going to need time to adjust to the speed of the NFL.
After a turbulent end to the season, this team is back on track. Haskins and Sweat, two top-12 prospects on my board, push this class over the top."
Draft analysis: "Sometimes the draft is about getting lucky. That was the case when quarterback Dwayne Haskins slipped to No. 15. To fill the need at pass rusher, Washington jumped back into the first round to get another player in free fall with Montez Sweat. He can stand up and rush the edge.
Washington paired Haskins with Ohio State teammate Terry McLaurin, a speedy receiver who does all the small things. A couple years ago, some thought Stanford running back Bryce Love would be a top-64 pick. Then a torn ACL killed his stock. If he's healthy, he gives Washington a shifty runner with a history of explosive plays. It's a big risk, considering Derrius Guice has his own ACL issues, though.
Wide receiver Kelvin Harmons was straight-up theft in the back part of the sixth round. But this is a theme of these grades: Where was the cornerback?"
Draft analysis: "Pre-draft reports out of the nation's capital forecast a draft night train wreck. But the 'Skins not only averted the rumored disaster, they showed atypical patience and potentially walked away with two first-round blue chippers in QB Dwayne Haskins and OLB Montez Sweat. Maybe the only person who didn't appreciate this draft was last year's second rounder, injured RB Derrius Guice. But who can fault Washington for its Bryce Love insurance policy? Even late picks like fifth-round C Ross Pierschbacher and sixth-round WR Kelvin Harmon could contribute early and often."
Draft Analysis: "There's plenty to like here. It's all so un-Redskins-like. They resisted the urge to move up or trade for Josh Rosen, stayed put at No. 15 and got the QB they wanted in Dwayne Haskins. There are questions about his mobility, but he's a gifted pocket passer and it wouldn't be shocking if he's the Week 1 starter. Pass rusher Montez Sweat will turn out to be a steal at No. 26 if his health-related concerns indeed arose from a misdiagnosis. Getting speedy WR Terry McLaurin in the third round helps, and using a fourth-round choice on RB Bryce Love is intriguing."
Draft analysis: "The fact that they did not have to move up to get Haskins was a major bonus. His arm is live and he has the ability to distribute the football to all parts of the field. Given the murky future of Alex Smith, finding Haskins waiting for them at No. 15 could prove to be franchise-changing. Finally, Washington traded up to grab Sweat, who will be a fine pass rusher if his heart condition does not prevent him from reaching his potential. They really needed depth at outside linebacker, where Sweat fits quite well. I am generally not enamored with giving up future second-round picks, but this guy's talent is worthy of taking that sort of chance."
"Day 1: While there was speculation that they might have to trade up to get Ohio State's Dwayne Haskins, Washington stayed put at No. 15 and still got their guy. Haskins finished the pre-draft process ranked 10th on the PFF draft board. Drawing striking similarities to Sam Bradford, Haskins was fantastic throwing at the short and intermediate levels in his lone year as a starter at the college level.
"Getting him here at 15 is an absolute steal; one of the steals of the draft. He has a lot of promise." – Pro Football Focus' Lead Draft Analyst Mike Renner
Washington's second pick in the first round, which they traded for by sending the No. 46 overall pick and a 2020 second-rounder to Indianapolis, was not as highly regarded from PFF's brass. Former Mississippi State edge defender Montez Sweat, the No. 46 overall player on our board, is freakishly athletic but didn't wow as a pass rusher on film.
Day 2: Terry Mclaurin's production doesn't tell the whole story, as he was just one part of a loaded Ohio State receiving corps. He put on a show with his deep speed and route running at the Senior Bowl and finished as PFF's No. 68 overall player in the class – nearly 30 spots ahead of his teammate Parris Campbell.
Day 3: Washington picked up what could be a big steal in the draft in former NC State wide receiver Kelvin Harmon at pick No. 206 on Saturday. Harmon's production at NC State was off the charts, but there are legitimate concerns as to whether he can separate enough to win in the NFL. He ranked 81st on PFF's final big board."
Grade: third among NFL teams
Draft analysis: "Daniel Snyder and Bruce Allen succeeded in cooling all the predraft heat on them. They didn't need to move to land franchise passer Haskins, and they got him two key targets in McLaurin - a former Buckeyes teammate of Haskins - and the underrated Harmon. Sweat was a steal with a trade back into late in the first round. Love is a good stash behind Derrius Guice. This is Washington's best overall haul in years."