Long before Kyle Shanahan arrived in San Francisco to be the 49ers new head coach, he was known for having a robust and innovative offensive mind, especially when it came to rushing the football.
That much was apparent when he was coaching for the Redskins from 2010-2013. With the help of players like quarterback Robert Griffin III and running back Alfred Morris, the team's Shanahan-led offenses were the top rushing group in 2012 and top-five in 2013.
Not much has changed for Shanahan's offenses with the 49ers. With an average of 179.8 yards on the ground through five games, the team is second in rushing and off to a 5-0 start.
San Francisco's running game, which is spearheaded by a trio of running backs in Matt Breida, Raheem Mostert and Tevin Coleman, has been a problem that no team has been able to solve.
The Redskins are next in line to find a solution.
"Kyle knows the running game," interim head coach Bill Callahan said. "He's really worked hard to establish their identity. You don't see a lot of teams have that much diversity in their attack and in their scheme, but they game plan really well. They change week-to-week and you've got to be ready for everything. They've got it all."
Although the 49ers' running backs get the bulk of the carries, the threat can come from almost anywhere on their offense. There are nine players on the roster who have gotten at least one attempt on the ground, and that group includes tight end George Kittle, wide receiver Marquise Goodwin and fullback Kyle Juszcyk. Combined, they've rushed for 899 yards of offense for an average of 4.6 yards per carry.
Plays like outside zones and jet sweeps have become a staple of their ground game, which adds "a whole other dimension" to their offense, Callahan said.
"They feature that run in so many different ways and they press the edges and they make you defend every gap, from the perimeter to the backside, so it's a great concept."
Defensive coordinator Greg Manusky's strategy to counter that is simple: be physical at the line of scrimmage.
"We've got to be physical up front and be physical on the edge," Manusky said. "We've got to be physical inside and they're to [use] play-action to try to get up the field with the wide receivers. So, we've got to protect both ends."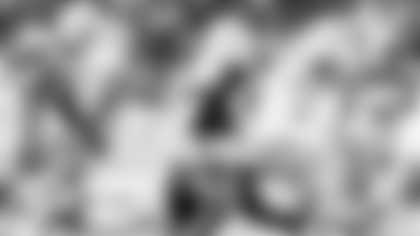 Using players like Kittle in the backfield also creates flexibility on what kind of runs the 49ers can call in any formation.
"He's going to have a lot of formation alignments that they can feature [Kittle] in as well," Callahan said. "It does put pressure on you. They'll block him up, they'll also slide him across the formation…then all of a sudden, once you hone in on him, the ball is going opposite away from his flow."
That much movement is meant to confuse defenses, which is why safety Landon Collins said it's important for he and his teammates to stay locked in on their assignments.
"Stick to our keys," Collins said. "You read your assignments, you do what you're supposed to do, and you can read it as clear as day. You just have to keep your eyes on where you're supposed to be at."
When asked if there was anything unique about the 49ers offense, Collins said, "They just put guys in different places all the time. They use what they have to the best of their ability."
There aren't many players left on the Redskins' roster from Shanahan's tenure as offensive coordinator, but Callahan has spoken with them in an attempt to gain more insight into Shanahan's system.
"There's so much you can learn from the players that have been in that system," Callahan said. "I've always reached out and tried to follow a little bit more about what they were doing and how they were doing it. I've got great respect for what they've accomplished."
The Redskins' defense ranks near the bottom in terms of against the run, but the unit has done a good job of preventing players from having a big day against them. The defense is also fresh off one of its best outings of the year against the Dolphins, holding them to 84 yards on the ground.
The 49ers have rushed for at least 98 yards in every game, but the Redskins are ready to end that trend, no matter who carries the ball.
"Those are all schematics and tactics that have been well-coached and well-presented and executed by the Niners," Callahan said. "It definitely presents a challenge for our defense."