J.T. Clark did not have much of a choice.
It was around 10 a.m. on Oct. 26, 2015, and the feeling had become so strong that Clark left work in Roanoke, Va. and began driving about an hour to a courtroom in Martinsville, where the man who killed his family members faced reckless driving charges.
Halfway into his drive, Clark, hardly a religious man at that point in his life, received what he called a "message on my spirit." It instructed him to pay any fine the judge imposed for then 51-year-old pastor C.J. Martin, the driver involved in the Aug. 21 traffic accident that resulted in the death of Clark's brother and sister-in-law.
Martin and his teenage son were on their way home from a high school football game when an ambulance caught fire in front of them, forcing them to be rerouted onto T.B. Stanley Highway in Bassett, Va. But with no traffic lights or signs to direct them at the intersection, Martin briefly turned into the wrong lane and collided with Bobby and Pam Clark's motorcycle. The couple was killed almost immediately.
Clark briefly questioned the proposition that came across his spirit. The fine could be thousands of dollars, and his family would be unaware of the action. Then he received a second message.
"You don't worry about a thing. You show up and you be ready to pay the fine and I'll pave the way."
"Well, your honor, my family is moving on the path of forgiveness towards Mr. Martin," Clark recalls telling Henry County General District Court Judge Edwin Gendron. "Frankly, actions speak louder than words. If me being here paying his fine helps him accept and receive his forgiveness, so he can do what he's called to do, enjoy the rest of his life, enjoy his wife and son. Your honor, that's what I'm here to do. We love Mr. Martin."
Initially inclined to impose a fine between $500 and $2,500, Gendron settled on a new punishment of $5. With the case adjudicated, and tears streaming down the faces of those sitting in the courtroom, Clark shared an embrace with Martin, who he had previously never met.
The extraordinary gesture of Clark, a lifetime Washington Redskins fan and former season ticket holder, was just the beginning of a greater narrative. It's one that's been chronicled in a book, "In the Blink of an Eye: Forgiveness in Black and White," written by Clark and his wife, Terri Lee Clark, and published in November of 2018. Soon the novel will be depicted on the big screen, with "My Brothers' Crossing," set to come out in theatres this fall.
It's a story about family tragedy, faith, a move of forgiveness and the unexpected bonds Clark formed in the weeks, months and years since that day in the courtroom. It's a transformative tale Clark never envisioned.
"By being in this situation and allowing ourselves to be in relationship with one another, I have learned and grown," Clark said. "I'm a better husband, I'm a better father, I'm a better worker, I'm a better colleague, I'm a better friend, and [Martin] continues to pour into my life."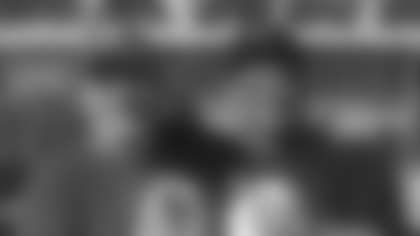 Looking back, Clark understands the relationship between him and Martin could have ended in that courtroom on Oct. 26, 2015. He could have paid the fine and went his own way in trying to regain a sense of normalcy after the accident.
But on their way to the clerk's office, Martin sought to deepen the bond by inviting Clark to House of Purpose Ministry in Collinsville, where Martin serves as a pastor.
At that time, Clark had not been to church in years. His brother Bobby was a member of T.R.A.S.H. (Totally Redeemed Anointed Servants of the Most High) ministry, and he often tried to instill Christian values in Clark, but to no avail. Bobby and his wife were actually coming from T.R.A.S.H when their motorcycle collided with Martin's pickup truck. From the front door of Martin's church, you can see the scene of the deathly accident.
Clark initially struggled to accept the invitation but eventually brought himself to attend House of Purpose for the first time on Nov. 8, 2015. A week later he returned with his mother, and he's gone there every Sunday he has been available since.
"I've been a lukewarm Christian my whole life," Clark publicly announced at House of Purpose. "From now on, all of that changes. From now on, Here I am, Lord. Send me. And nothing has been the same since."
Five days after his first visit to House of Purpose, Clark attended T.R.A.S.H ministry, the biker church in Collinsville. After the service he spoke to the pastor there, Mike Price, who once upon a time served as a junior pastor under Bobby Clark. The two men sat together for the first time and talked about Price's relationship with Clark's brother. It was at this meeting that Clark came up with the idea to start his own ministry, My Brothers' Crossing. He's since become a servant leader, traveling around to hospitals, prisons and the scene of various accidents, comforting and providing for those around him. He's also licensed and ordained as a minister in House of Purpose.
And when he is not actively spreading his religion, he's practicing it with his two pastors: Martin and Price.
"Me and Mike and J.T., whenever we go anywhere, we just say we're brothers," Martin told The Franklin News-Post in 2017. "We don't even explain it. We are joined together through Christ, so it doesn't matter what you look like."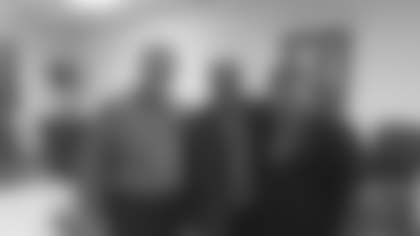 Along with faith, forgiveness and friendship, football has also found its way into Clark's transformation.
Clark is a lifelong Washington Redskins fan dating back to the days George Allen coached the franchise in the 1970s. He and his wife were Dream Seats season-ticket holders from 2009 to 2017, cheering for their beloved team from section 11, row 1, seats 15 and 16. Through the Redskins Rewards program, Clark was selected to be the team representative for the 2017 NFL Draft, where he gave NFL Commissioner Roger Goodell a Redskins jersey to presentto the team's first-round pick, defensive lineman Jonathan Allen. Later in the draft, Clark and his wife announced the Redskins' sixth-round selection: Georgia State wide receiver Robert Davis.
"The Redskins experience afforded us an opportunity to develop relationships with people that I would not have ever met," Clark said. "Since we only had two tickets, only one of my [three] daughters could go with me to any game. We had a lot of time to talk about things and to see how things were going in their lives and have that 1-on-1 father bonding time. The whole of my experience as a season-ticket holder was much more than the game. It was always much more than the game. I wanted the Redskins to win just as bad as anyone else in the stadium, but at the end of the day, it was about the experiences the Redskins made available through our package."
Martin shared in this experience, too. About two months after their first encounter, Clark and his wife found out Martin was a Pittsburgh Steelers fan and decided to gift him and his daughter tickets for whenever the Steelers came to FedExField that next season.
The four of them ended up staying with Martin's daughter in Bowie, Md. and going to the Monday night home opener on Sept. 12, 2016. They secured field passes to stand on the Steelers' sideline before the game and took a picture with Redskins offensive lineman Trent Williams, Clark's favorite player. Clark then nominated Martin for "Fan of the Game," explaining the history between the two men in his submission. The Clarks even went home to Boones Mill, Va., with a few souvenirs.
"The guest room had two T-Shirts laid out on the bed with the back of the T-shirt facing up, and it was a Redskins' T-shirt, and on the back of the shirt it had "Clark" and the number five," Clark explained. "And all I could think of is, 'Why in the world did they put Donovan McNabb's number on the back of the T-shirt?' And my wife slaps me in the back of the head and she says, 'No, that's because we have three children.' They refer to themselves as the "Martin 4" because it's husband, wife, daughter, son, so they put "Clark 5 " because it's my wife and I and three daughters.
"But we laughed the whole weekend," Clark went on to say. "My face hurt so much coming home because of how much I had laughed."
The bond between Clark and Martin remains as strong as ever. Clark attended high school basketball games to see Martin's son play and was at his son's graduation. Martin joins Clark for visits with Clark's nephew in prison. The two families go out for meals together and have talked about planning a joint vacation. The two men talk nearly every day.
In the minds of Clark and Martin, it's an almost "supernatural" relationship that has blossomed from life's lowest of moments.